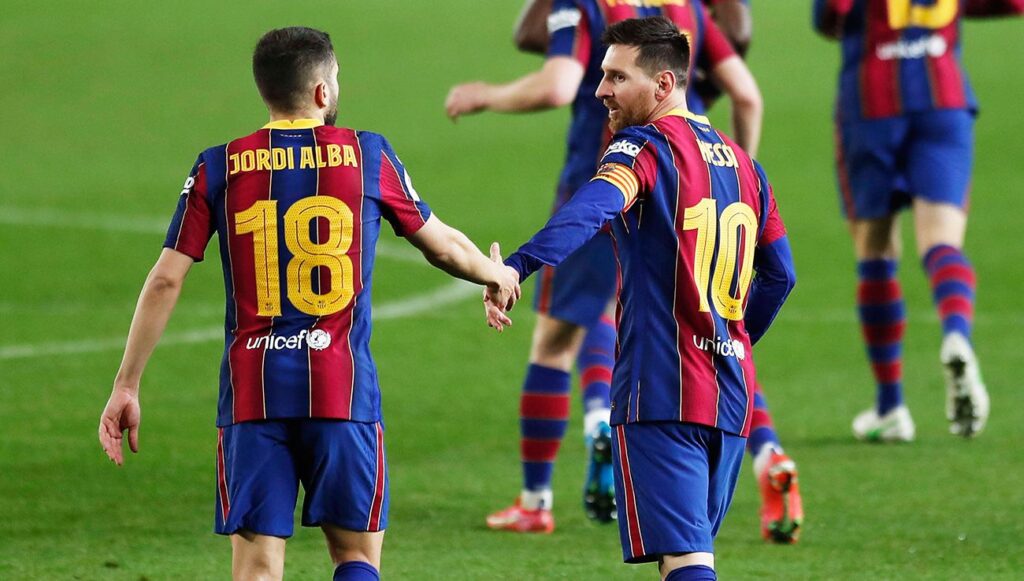 FC Barcelona defender, Jordi Alba, has slammed media reports blaming him for Messi's exit from the club due to refusal to accept pay-cut to allow for the renewal of the Argentine's contract with the Catalan giants.
Barcelona due to COVID-19 has found themselves in deep financial woes with debt of over £1.1 billion, and rumours emerged that some senior players in the club were asked to accept a pay cut so that Messi whose contract expired in June, 2021, will be given a new contract, but Alba refused. The Spanish left back has denied the allegations and expressed willingness to always negotiate with the club.
Alba made these clarifications during an interview after Barca's 4-2 win over Real Sociedad at the Camp Nou on Sunday, August 15.
"Apart from being the best ever, Leo was the one who understood me best, so imagine the efforts I would have made for him to stay…It's not true [that Messi left because of a pay cut the captains rejected]. The Messi stuff was separate from the captains, between the club and him. I can't control everything that's said, but I've been around. Nothing will surprise me. If 10 out of 10 news articles about Jordi Alba are negative, it's normal that people think badly. I can't stand being doubted. When the club talks with me, I am willing. I'm from here, spending my whole life in Barcelona. That my commitment is questioned hurts me a lot. As the president hasn't spoken specifically about this yet, I suppose he will speak and he'll tell the truth"
Jordi Alba
It will be recalled that Gerard Pique, took a significant pay-cut just a day before the club's La Liga opener against Sociedad to permit the registration of the club's new signings, Memphis Depay, Eric Garcia and Rey Manaj. Pique would go on to score Barca's opening goal in La Liga this season, and revealed in a post-match interview that it was only a matter of time for Alba and the club captain, Sergio Busquets, to follow suit in reduction of salary.
Alba confirmed Pique's statement, saying: "My lawyers have spoken to the club. Pique's was concluded first simply because of the timing but the willingness of all the captains was always as it had to be."
Source
Completesports
Featured Image Source: FC Barcelona Noticias