Woman Makes History After Marrying Pink Colour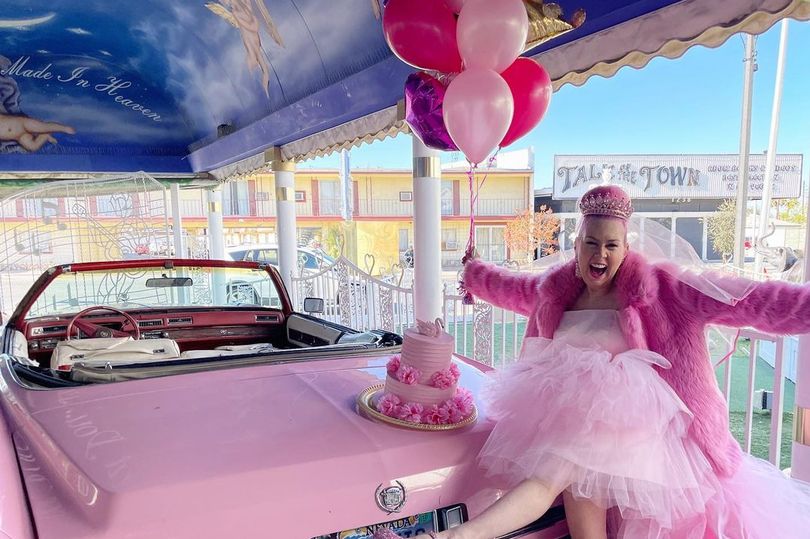 History made as woman marries the color pink and vows never to wear another color till she dies
The internet has yet been hit by another awestruck story as an identified woman tied the nuptial knot with her favourite colour pink.
The woman identified as "Kitten Kay Sera" has officially married her favourite colour at a wedding ceremony conducted to join her and the favourite colour in holy matrimony.
According to Sera, she had been in a relationship with the colour "pink" for over 40 years. Her love for the colour had overgrown causing her to regularly dress in colour pink that people around her noticed her unusual affection for the colour.
Sera also added that her decision to marry the colour was borne two years ago when on an occasion, a kid stylishly taunted her constant dressing in colour "pink". In Sera words, "A kid said to me on a skateboard, Wow you love pink, right?' I said, 'Yeah, I love it so much,' and he goes, 'You love it so much, why don't you marry it?'
Since the incident, Sera's infatuation for the colour pink had been fuelled up and she had been nursing the ambition of making the colour her life partner.
The wedding ceremony took place in Las Vegas on the 1st of January, 2022. Friends and well-wishers were present to celebrate the rather strange events. Guests at the wedding ceremony were also dressed in pink clothes, shoes, bags and pink jewellery to further commemorate the colour of the moment which of course was pink.
As the ceremony progresses, sera walked down the aisle, dressed in a pink wedding gown, a pink silky coat, pink hair, pink jewellery, pink lipstick and a pink bouquet flower just to mention a few. Along with her, she took a giant swatch of the colour pink which had five different shades of Sera's favourites. As she took the marital vows,  she promises never to wear any other colour but pink "until the day she dies".