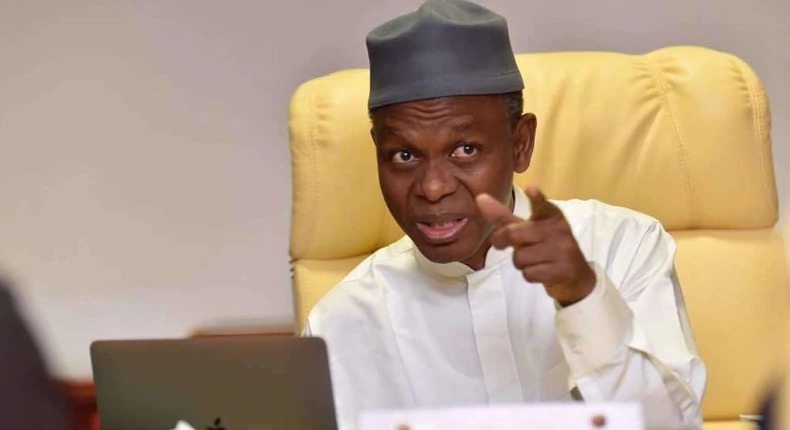 El-Rufai suggested that the military should bomb forests where bandits hide.
The governor of Kaduna State, Mallam Nasir El-Rufai has opined that some forests in the Northern part of Nigeria should be carpet-bombed to end the activities of bandits in the region.
Though carpet-bombing will damage the forests and wildlife in the area, the governor, however, said that the potential damages could be rectified.
In an interview with Arise TV, El-Rufai said: "I've always believed that you know we should carpet-bomb the forest and bomb them all. There will be collateral damage, but it is better to wipe out and get people back to our communities". 
Kaduna State and some other states in the North-Western part of the country have suffered greatly at the hands of bandits, such as rape, killing, kidnapping, and maiming many residents. The Kaduna State governor insisted that investing in modern security technology and personnel will help wipe out the bandits.
El-Rufai believes that the inability of security personnel to wipe out bandits in the region is due to lack of motivation.  He also believes that the security personnel fighting bandits in the North are working really hard, but they are being overstretched.
"The reality is we don't have enough boots on the ground to address myriad of security challenges that we face," the former FCT minister said.
This is coming a few days after Nigeria's minister for information and culture Lai Mohammed said that the federal government was adopting new methods to tackle the security challenges in the country.
The minister claimed that Operation Hadarin Daji has been successful so far. Lai Mohammed revealed that about 427 bandits have been neutralized in the operations of the security operatives in the North-Western region. The minister also gave figures of bandits arrested so far and the numbers of civilians and livestock that have been rescued in the process.