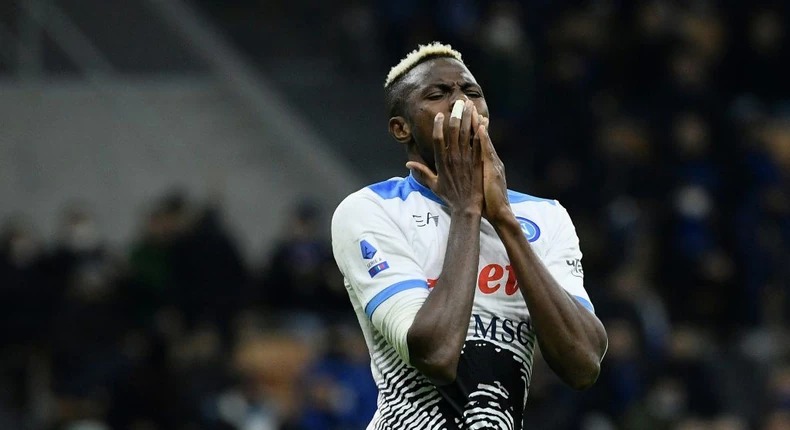 The highly rated Serie A striker is set to miss out on the continental showpiece after suffering a cheekbone injury on Sunday.
Nigeria's plans of winning the 2022 Africa Cup of Nations in Cameroun suffered a huge blow after SSC of Napoli striker Victor Osimhen was ruled out of the tournament due to an injury suffered in the 3-2 Italian Serie A defeat against Inter Milan on Sunday.
Osimhen collided with Milan Skriniar and was forced out of the encounter at the Stadio Giuseppe Meazza just ten minutes into the second half.
An official statement from Napoli confirmed that the 22-year-old will have to remain on the sidelines for three months before returning to action. This development has ruled out the striker from the 2022 AFCON tournament.
"On Tuesday morning, Victor Osimhen was operated on his cheekbone and eye socket by Gianpaolo Tartaro, who was assisted by Dr Mario Santagata with Dr Raffaele Canonico also present," the club statement read.
"Titanium plates and screws were used in the operation. The player is doing well and will remain under observation for the next few days.
"Osimhen is expected to return to action in three months."
Osimhen who has been in blistering form for Napoli this season has also replicated his form at the international level. The Lagos-born striker has scored nine times in his last ten games for the Super Eagles and will be greatly missed when hostilities commence in Cameroun.
Source
Goal
Featured Image Source: Pulse NG