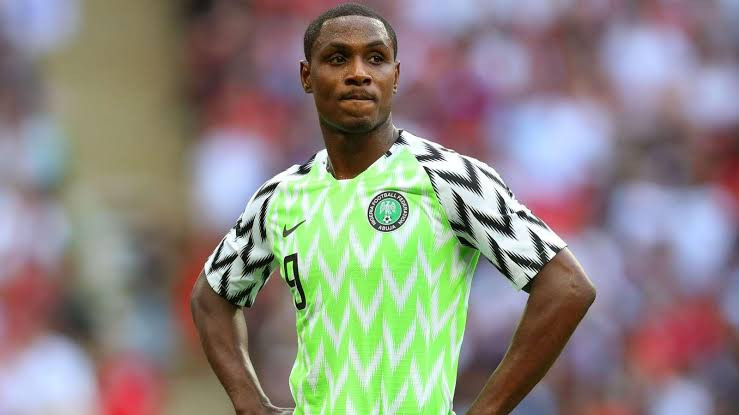 Ighalo recently returned to international football after a two-year absence.
Saudi Arabia professional football side Al-Shabab has stated that the Nigeria Football Federation is responsible for Odion Ighalo's absence at the forthcoming Africa Cup of Nations in Cameroon.
Ighalo recently returned to the Super Eagles after two years of retirement from international football. The 32-year-old striker was expected to lead the attack of the Super Eagles in Cameroon following the absence of Napoli striker Victor Oshimen due to a facial injury, but the Asian club has refused to grant him permission.
Though initial reports stated that Al-Shabab is responsible for Ighalo's absence from the tournament, Majid Al-Marzouki, Al-Shabab's director of professionalism, however, stated that NFF should be blamed for Ighalo's absence.
Al-Marzouki was quoted by Arabic television news channel Al-Arabiya to have said that NFF did not send the invitation earlier within the specified period.
"We did not prevent the player from joining, but his invitation letter did not reach us within the period specified by FIFA for receiving the player's call-up letters," the football chief said.
He went further to say: "The FIFA Player Status Regulations stipulates that local federation must notify the player and his club in writing of his summon 15 days before the start of the tournament, and it is advised to send a copy to the local federation of the club as well which did not happen".
Though NFF spokesperson, Ademola Olajire claimed that NFF is negotiating with Al-Shabab in a bid to ensure that Ighalo joins the rest of the team, Al-Marzouki, however, denied the claim.
He said: "There are no negotiations between us and the Nigeria Football Federation, and the player is committed to the decision, the situation is settled".
Ighalo won the Golden Boot at the last AFCON in 2019 with 5 goals. There are, however, several reports suggesting that Ighalo has been replaced by Feyenoord striker, Cyriel Dessers.
Source
Completesports