Trending: Watch Video Of Nigerian Strippers Praying Before Work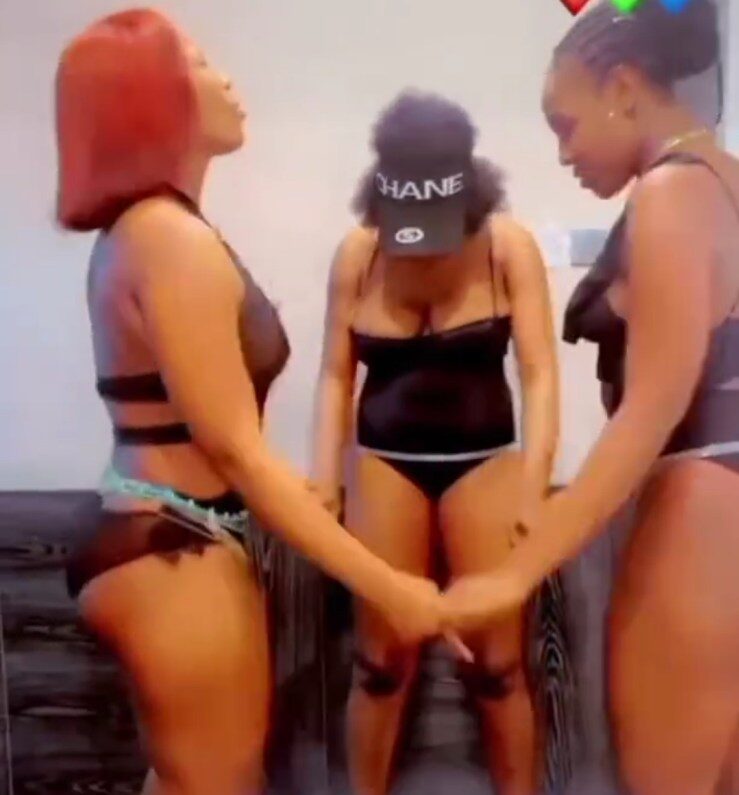 A group of three Nigerian strippers were spotted praying to God to bless their 'hustle of the day' before proceeding to 'duty.'
Everybody needs prayer as perhaps it is the key to success. A group of strippers were spotted in a tape that has gone viral, passionately making intercessions to God for bountiful sales over their business.
In the rather trending video, the three strippers clothed in black mini outfits were spotted holding hands together as they intensely prayed and spoke in tongues before commencing their 'business' for the day.
One of the strippers who led the prayer session prayed that their customers would spend on them all of their hard earned fortunes as well as their salaries so that they could have a bountiful profit before the expiration of the day and perhaps the week. As the prayer deepened, one of them jumped up and began to speak in tongues as they made their request.
The strippers further pleaded for forgiveness over sins that they have committed and asked for God's blessings on them as they embarked on their last day of work.
As soon as they had finished praying, they jumped out in excitement and began to show off their dancing skills.
The praying stripper of the three said:"Lord Jesus we thank you throughout this week, Lord Jesus, we come again tonight, lord Today is our last day of work, kai, king of glory, I pray you oh lord that you touch the hearts of men, soften their hearts so they will spray us all their hard earned money , they will spray us their salary, Jesus you said it is not by the dress, it is by the heart. Lord, in as much as our hearts are clean, oh God……..speaking in tongues….."
"Lord forgive us our sins because we have sinned against you in many ways , please bless us tonight."
Source
Insta Blog