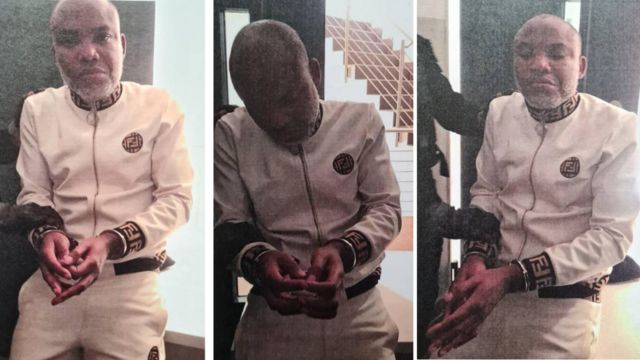 Kanu has appeared in same outfit during his trials.
The Department of State Services (DSS) has been cautioned to allow detained leader of the Indigenous People Of Biafra (IPOB), Nnamdi Kanu, change his clothes after appearing in the same attire since the beginning of his trial.
Honourable Justice of the Abuja Federal High Court, Binta Nyako, gave the order during a court session on Tuesday, January 18, 2022 following complains from Nnamdi Kanu's lead counsel, Chief Mike Ozekhome, that Kanu was being deprived of certain amenities while being kept in an isolated detention facility of the DSS.
The lawyer further lamented that despite previous directives urging the DSS officials to allow the IPOB leader have his bath whenever he pleased, change his clothes, eat properly and practice his religion, the DSS had flagrantly flouted the court's orders.
He further stated that fellow inmates who tried to associate with Nnamdi Kanu have also been stigmatized and meted out same ill treatment.
In a swift response, Justice Nyako ordered the DSS not to maltreat Nnamdi Kanu while he remained in custody. She also upheld her previous orders that the IPOB agitator be given the privilege to change his clothes freely and perform exercises when the need arose.
However, before adjourning the case to Wednesday, January 19, 2022 she reminded the defense counsel that the 'detention facility was not a five star hotel.'
"I don't want to see him in these clothes again. This one is almost off-white. Also make sure that you allow him to exercise," Justice Nyako ordered.
The embattled leader of the Indigenous People of Biafra (IPOB) has been in DSS custody since July 2021 after he was arrested in Kenya and extradited to Nigeria. He is currently facing charges bothering on terrorism and treasonable felony.
Source
Punch NG