Davido Slams Cousin Who Wants To Run For Gubernatorial Election Against His Uncle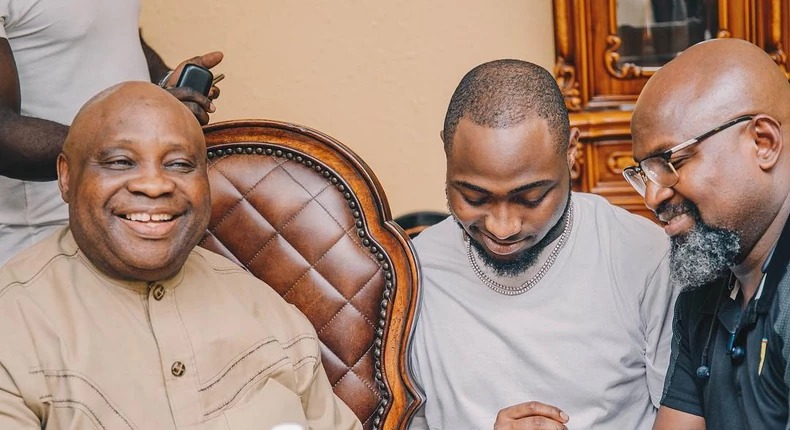 Davido is a strong ally of his uncle Senator Ademola Adeleke.
Popular Nigerian music star, David Adeleke, known as Davido, has slammed Dele Adeleke, one of his cousins over the latter's plan to contest against their uncle, Senator Ademola Adeleke, in the forthcoming gubernatorial election in Osun State.
Davido, who seemed not to be happy with his cousin's ambition, took to his Twitter page on Tuesday, 18th January 2022, to slam his cousin.
"Wonderful! Me I finished uni with 2:1. But it's now cousin dele who struggled to even get 2:2 that is now forming "intellectual". Intellectual that has not succeeded in building one single thing in his life on his own. This life ehn! Osun beware of FAKES! @deleadeleke001," the tweet read.
Dele Adeleke recently expressed his interest in vying for the office of the Governor of Osun State by buying the PDP nomination form. His uncle, Ademola Adeleke is also vying for the same seat, under the platform of PDP.
Senator Ademola Adeleke was PDP's candidate in the 2018 gubernatorial election in Osun State, where he lost to the incumbent governor, Oyetola Gboyega of the APC. The election was allegedly marred with controversies and Adeleke sought redress in court. He, however, lost his appeal at the Supreme Court.
Meanwhile, Davido's Cousin, Dele Adeleke, was PDP's returning officer during the 2018 gubernatorial election in Osun State. He also stood by his uncle throughout the court process. In a recent interview with Channels TV, Dele Adeleke stated his reasons for contesting against his uncle and he also stated that he would not step down because he is obeying the call to run from the youth.
In his words: "These calls have been going for a long time and I have been saying no. It is time for a generation of shifts. It is time for those who are fit and able to deliver."
Sources
Pulse NG
PM News