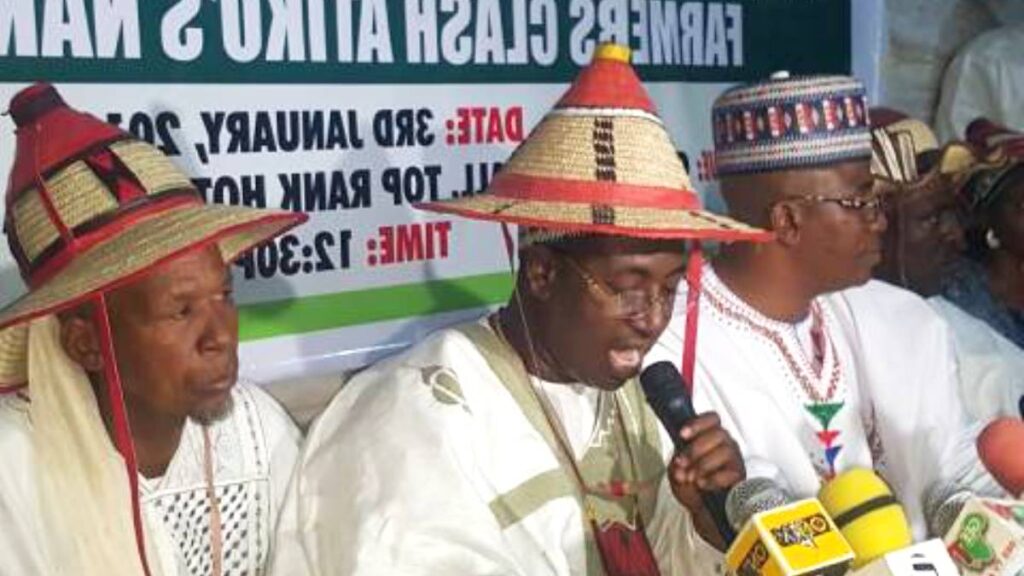 The Northern group believes another northerner should succeed Buhari.
The Myetti Allah group has declared that it would not support any southern presidential candidate in the 2023 General election. National President of Miyetti Allah, Kautal Alhaji Bello Bodejo, disclosed this in an interview with journalists on Sunday, January 30, 2022.
Bodejo said Northern Nigeria is more united and formidable than any other region in Nigeria. He argued that the distinct approach of the Northerners to the issue of segregation made them stand out from other parts of the country.
Speaking further, Bodejo bragged that Northern politicians always outsmart their Southern counterparts whenever they occupied political offices. While adding that the North had more expertise in the area of leadership because of the wealth of experience garnered from their founding fathers.
"Even though Nigeria is one, we are not going to support a southerner as president. A president from the north is better because northerners are better managers of the nation than southerners,'' Bodejo opined.
"The north has demonstrated that there is no difference among them in the region. They don't show this is Fulani, this is Hausa, and this is this and that, unlike in the south. Northern people have managed the country better than southerners.
"If your enemy asks you to join him to scatter your father's house, can you support him to break your father's house? You shouldn't do that. But if he overshadows you and you help him to accomplish that, you would cry later.
"It will be very difficult for a southerner to manage Nigeria the way a northerner would. The northerners that are ruling or governing were trained by our leaders that ruled the country before."
Furthe, Bodejo advocated that state governors grant permit allowing Fulani herders access to their grazing reserves all over the country, which according to him was allotted several years ago.
"RUGA is politicians' language of politicians, while cattle colony is the language of people who want to eat government money. We have grazing reserves," he said.
"All these governors, before they were born, we had these grazing reserves. Some were gazetted, while others were not.
"Why they don't want to give us back the grazing reserves is what I don't know. Last two weeks, the governor of Jigawa invited me to come and see the kind of grazing reserves they have and I spent five days visiting them."
Southerners who have indicated interest in contesting for the 2023 presidential seat include national leader of the All Progressive Congress, Asiwaju Bola Ahmed Tinubu, Ebonyi State Governor, DavidUmahi, Former Governor of Imo State and current Senator representing Imo West, Rochas Okorochas, Chief Whip of the senate, Senator Orji Kalu, Dele Momodu, Yul Edochie, Khadihah Okunnu-Lamidi, Chukwuka Monye, amongst others.
Source
LIB