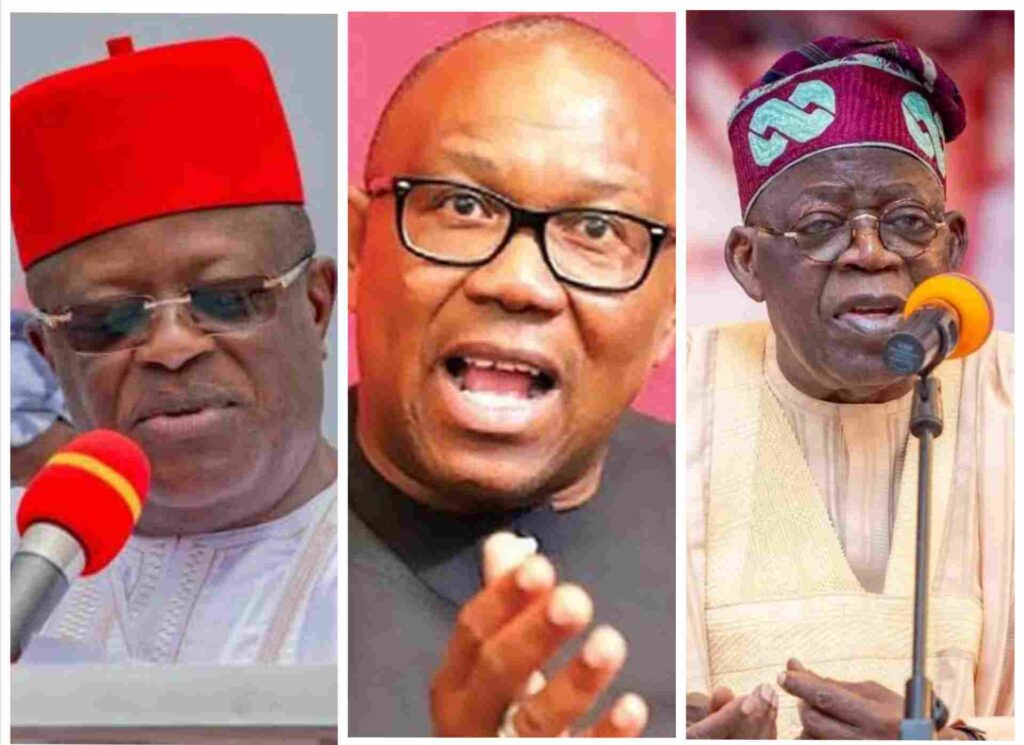 The Ebonyi State governor lost the presidential primaries to Tinubu.
As the race for Nigeria's presidency continues, Governor David Umahi of Ebonyi State has expressed his wish for Labour Party's presidential candidate, Peter Obi, to win the presidential election if the candidate of the All Progressive Congress (APC), Bola Ahmed Tinubu, fails to emerge victorious at the polls.
Governor Umahi while addressing State House correspondents in Abuja after a closed-door meeting with President Buhari, hailed the Obidient Movement (political movement for Peter Obi), noting that it is anchored on equity and fairness.
"Peter Obi movement is a movement that is anchored on equity, justice and fairness. It may not translate to outright win because I must defend my party, I must wish my party well and I'm having the ticket of my party. So whether what he is doing has meaning in there, not only southeast, it does have meaning.''
Peter Obi
When quizzed on the readiness of the Southeastern part of the country for the presidency, Umahi answered in affirmative and believes Peter Obi is evidence of the region's capability to produce a credible candidate for presidency.
"What happened during the primaries of PDP and APC, were a kind of miscalculation by people but to say whether they're ready for the presidency of the country anytime, I think that the movement of Peter Obi is an eye opener. That's why I said, I love what he's doing. I'm encouraged by what he's doing. Because if he's not doing what he's doing, it means that South East would have been forgotten. So while my party (APC) takes the victory, he would have prepared a very good ground, for the Southeast Presidency, so that nobody is going to write us off.''
Governor Umahi
The Ebonyi State governor did not dismiss the chances of the former Anambra State governor emerging victorious at the polls and expressed his wish for Obi to win if Tinubu fails because he believes the presidency should go to Southern Nigeria.
"Peter Obi's movement and all the movement are anchored on God's will, it's only God who knows who will win, but there must be a wish. As a party man, I would wish that our party wins. And if God says no, the next person I wish that should win is Peter Obi because I believe strongly and I will say it anywhere in this north/south presidency after the north has taken eight years, there is no moral justification for the north to be seeking to take another eight years, it should go to the south.''
Governor Umahi
Nigeria's presidential election in 2023 is expected to be tightly contested between Peter Obi (Labour Party), Bola Tinubu (APC) and Atiku Abubakar (PDP).
Source
LIB
Featured Image Credit: Kanyi Daily News