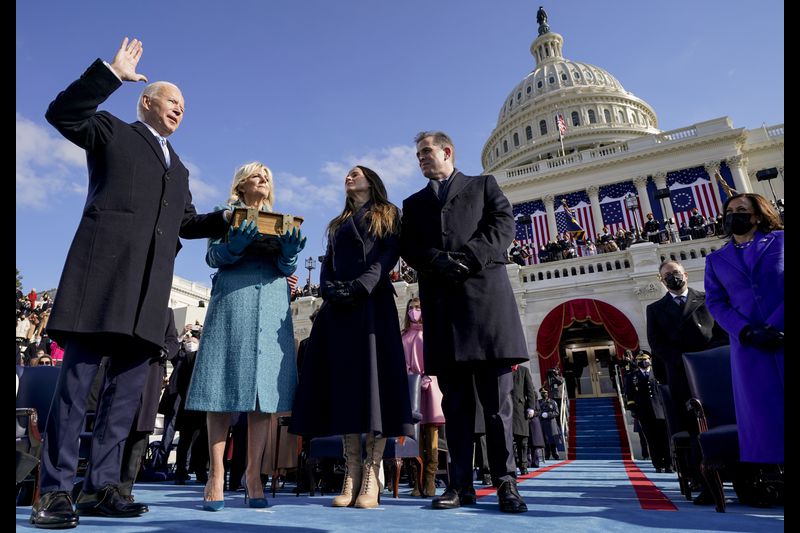 Winner of the November 3, 2020 United States Presidential elections, Joseph R. Biden, has been officially sworn in as the 46th president of the US. Biden takes over the reigns at the White House amidst the fight against a pandemic that has seen over 400,000 Americans loose their lives.
In his inaugural address, Biden said:
This is America's day. This is democracy's day…Today we celebrate the triumph not of a candidate, but of a cause. The cause of democracy. The people, the will of the people, has been heard, and the will of the people has been heeded
President Biden
Biden in his speech noted that his inauguration is taking place on the Capitol just two weeks after it was invaded by a "riotous mob." The Democrat noted that Americans have been reminded that "democracy is precious, democracy is fragile, and at this hour, my friends, democracy has prevailed."
The oath of office was administered by Chief Justice John Roberts before noon to officially usher in Mr. Biden's presidency. Biden would go on to address the nation few minutes after Vice President, Kamala Harris was first sworn in, making her the first woman in America's history to head that post.
President Biden's inauguration was different from what was obtainable in the past due to COVID-19. Scenes of a new president addressing an empty National Mall amidst thousands of National Guard troops watching over downtown Washington, as the Mall was filled with thousands of small American flags representing citizens that would have graced the occasion if not for the pandemic.
In attendance were outgoing Vice President, Mike Pence, Members of Congress, and Supreme Court justices. Barrack Obama, Bill Clinton, and George W. Bush, graced the event as former presidents.
Outgoing President Donald Trump lived up to his words about not attending the inauguration, making him the first president in over 150 years of American political history not to attend his successor's inauguration. Instead, former President, Trump, addressed his supporters for the last time as POTUS before boarding Air Force One to Florida.
Source
CBS NewsFeatured Image Source: Baltimore Sun