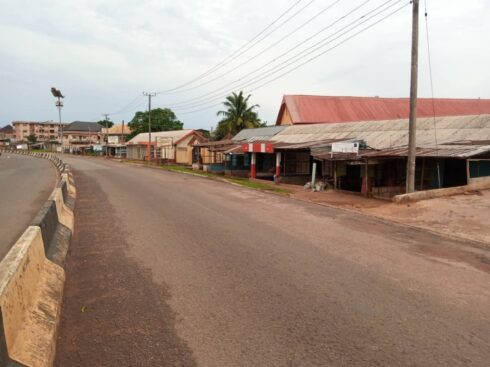 IPOB Sit-At-Home Order in Eastern Nigeria, Including Ebonyi and Owerri has recorded 100% compliance so far.
Earlier, the IPOB Director of Media and Publicity, Emma Powerful, gave the directive that to mark the 54th year anniversary of Biafra, citizens and residents of the South -East are to sit at home on Monday, 31st May.
Due to this directive, commercial activities in the states are to be on standstill, as this order was given by the IPOB leader, Nnamdi Kanu.
It was recorded that residents of Owerri, Imo State, have complied totally, as commercial banks, shops and schools, were all shut in the state on Monday morning.
Reports have shown that the scheduled House of Representatives constitution review hearing in Imo and Abia States were also suspended as a result of the directive.
Ebonyi state has also recorded 100% compliance, as shops, commercial banks, recreational centres and parks were all closed to observe the sit-at-home order.
Major and minor roads in these states are recorded to be deserted of persons and vehicles.
According to Sahara Reporters, an eyewitness noted that non-compliance of the sit-at-home directive spurred hoodlums and unknown gun-wielding men to attack the offenders.
"What I am seeing now is not funny. The unknown mob, fierce-looking, carrying gallons of fuel, matchets, faces covered, numbering over 50 just pursued a car at a bridge close to my residence; the driver escaped and they burnt his car. Thereafter heading towards Ebebe junction. Please all should sit at home."
Several unconfirmed reports of towns and areas being attacked and plundered have also been recorded.
Source: Sahara Reporters
Featured Image Source: Daily Trust