Aguero's Father Accuses Guardiola Of Faking Tears During The Departure Of His Son From Man City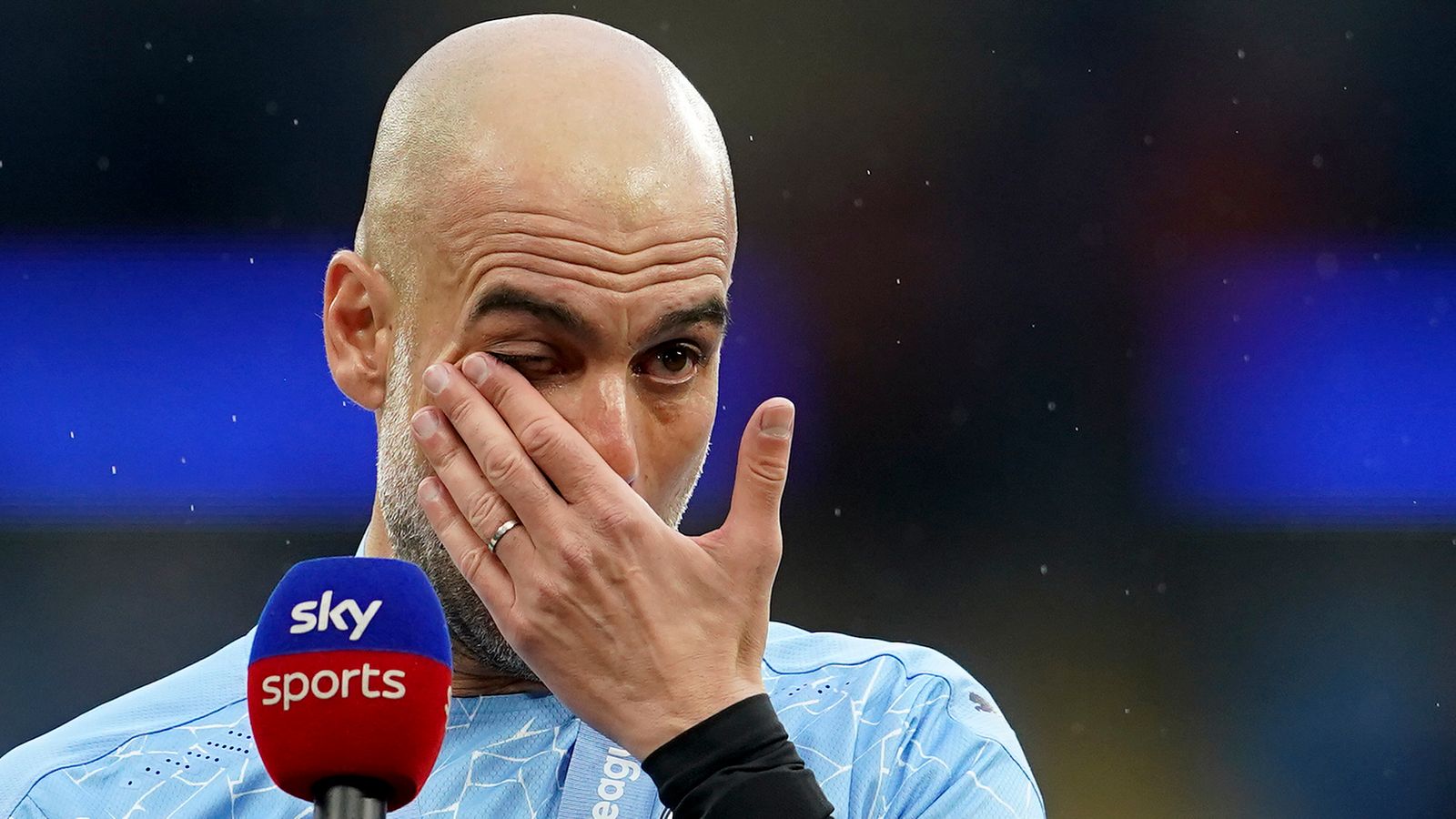 Leonel El Castillo, the father of Sergio Aguero has called out Pep Guardiola for ''faking tears'' during the farewell of his son from Manchester City. Aguero joined football giants, FC Barcelona, as a free agent after 10 years in Manchester where he established himself as the club's record goalscorer with 260 goals in 390 matches for the Cityzens.
Aguero, 33, was informed of the club's unwillingness to renew his contract by Guardiola in March and has not been a regular in the City squad since then. After scoring twice in his final English Premier League game for Man City (5-0) against Everton, Guardiola shed tears during an interview with Sky Sports when quizzed on the departure of the Argentine goal machine. The Spanish coach stated: ''We love him so much – he is a special person for all of us. We cannot replace him."
Despite Guardiola's public show of affection for Aguero, the striker's brother slammed him few days after the Champions League final 1-0 loss to Chelsea for ''never wanting'' his brother at the club and their father has followed suit.
In an interview with popular Argentinean stadio Radio La Red, El Castillo said: "I don't believe his tears. No, I don't. For me, he never wanted [Aguero]. When quizzed on the possibility of Guardiola's tears being for the cameras, the striker's father replied in affirmative saying:
Of course. He always wants to be the main man and not the players. I don't believe in Guardiola. He never wanted the Champions League trophy, he wants to be the protagonist of all the teams…There are things about Guardiola, he is a great coach. But from one day to the next the players change you, the environment changes. You never know if you are a starter or not
Aguero's father went on to reveal that top English clubs like Arsenal and Chelsea were interested in signing his son, but he opted for Barcelona, probably because of his friendship with Messi who is likely to remain at the Catalan club.
He is happy right now after signing for Barcelona. I see him happy. He didn't know what was going to happen with his future. There were several clubs interested in signing him. Arsenal were interested in him and Chelsea to the last minute. If he didn't stay in England, it was going to be Italy or Spain. He's been friends with Lionel Messi since they were 15 and they've always talked. It looks like Messi is going to stay at Barcelona so they're going to play together
Leonel El Castillo
Source
Sky Sports
Featured Image Source: Sky Sports