UEFA Euro 2020: Christian Eriksen's Collapse, Ronaldo's Coca-Cola Gesture, And Other Talking Points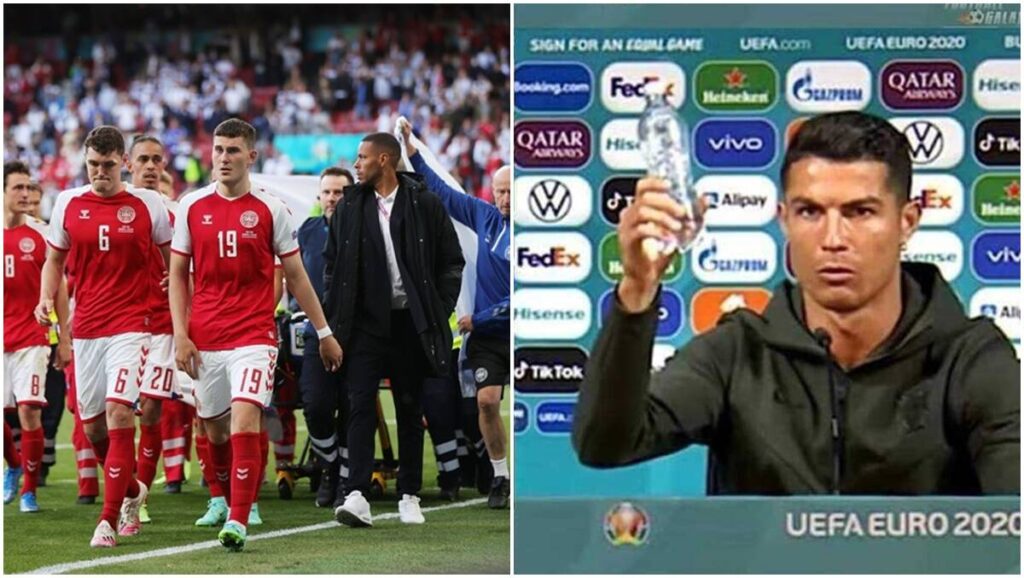 The Euro 2020 tournament has been a series of rollercoaster, beginning with Christian Erikson's surprise collapse on the pitch of play, to Cristiano Ronaldo's coca-cola gesture, which in turn triggered a series of events that have piqued the interest of football fans. In this article, I will take you through some of the talking points that have captured our interest as football fans.
Christian Eriksen's Shock Collapse
Christian Erikson's collapse on June 12, 2021, during Denmanrk's game against Finland is the biggest shock/talking point of Euro 2020. In the 42nd minute of the game against Finland, Eriksen slumped while trying to receive a throw pass from his teammate, to the shock of the entire football world. His team mates gathered around him, led by team captain, Simon Kjaer, who performed a CPR on the Inter Milan star before the medics arrived the scene.
Kjaer and the Danish squad formed a somewhat protective wall to create a hospital atmosphere for doctors who were attending to Eriksen. Also, Kjaer and the Danish players comforted Eriksen's wife who rushed into the pitch from the stands with tears in her eyes. The love and unity shown by Danish and Finnish football fans when the incident occurred is a factor that has placed football as a uniting force globally. Finland's flag was used to serve as cover for doctors while attending to Eriksen.
The entire stadium was brought back to life after the former Tottenham star became conscious and was taken off the pitch as fans of both nations cheered and encouraged him to beat the situation. Eriksen has since been discharged from the hospital and has returned home to be with his family after a successful surgery, we hope to see him back on the pitch soon.
Cristiano Ronaldo's Coca-Cola Gesture
Ronaldo has been a major talking point in Euro 2020 for numerous reasons, but not everything was about his performance on the pitch of play. During the pre-match conference before the Portuguese side faced Hungary, Ronaldo, while sitting before the conference table, saw two Coca-Cola bottles in front of him on the table, moved them over to the far side of the table towards his left, and raised a bottle filled with water, saying 'agua', and then added, "Coca-Cola, ugh", basically promoting drinking water ahead of taking soda.
It was a gesture that sent football fans into a frenzy, sparking debates of the ethicality of the gesture, and if it was indeed a PR move just to keep him on the screens and on everyone's lips. Soon after, popular Manchester United midfielder, Paul Pogba joined in, taking a Heineken bottle that was placed right in front of him, and putting it on the floor, beyond the view of the cameras. Many claims surfaced after, that it was due to the fact that Pogba is a Muslim, and alcohol was generally spoken against in the religion. Italian midfielder, Locatelli, joined in, although, his seemed to be one borne purely out of humour, than a statement, moving the water bottle ahead of the Coca-Cola bottles, making sure they were behind the water bottle, with somewhat of a smile, emanating from his face while performing the action.
Owing to Ronaldo's gesture, reports emerged that Coca-Cola had suffered a hit in their stock prices, costing them over $4 billion in market value, a significant drop in value. Some analysts were quick to counter it, and claimed it was just a part of the usual rise and drop in stock value, while others claimed it wasn't just a coincidence, considering the time frame. Many reports of Ronaldo's endorsement of other products that could be deemed unhealthy to eat emerged, especially the fact that he once endorsed Coca-Cola (in 2006), and also his endorsement with KFC in 2013. He was accused of being a hypocrite by certain factions, and was heavily criticized for pulling off that gesture as a publicity stunt.
However, Ronaldo has always been known to be a model athlete, building his body to almost peak human physique and fitness as a footballer. The Portuguese star has been consistent with tough training routines, and has maintained a healthy diet, with testaments from his teammates.
Ronaldo Becomes All Time UEFA Euro Top Scorer
During Portugal's first game of the tournament against Hungary, Ronaldo scored a brace during the late minutes of the game, helping Portugal seal a 3-0 win over the Hungarians. Both strikes took the Portuguese national team captain's goal tally in the tournament's history to 11 then, beating the 37-year-old record set by French football legend, three-time Ballon d'Or winner,  and former UEFA president, Michel Platini, who bagged 9 goals in just 5 games at the tournament.
Ronaldo had equaled Platini's record at the 2016 edition of the tournament before surpassing it on June 15, 2021. Currently, Ronaldo lead's the tournament's goal scoring history chart with 14 goals and will be looking to add his tally when Portugal clashes against Belgium in the second round on Sunday, June 27, 2021, by 8pm (WAT).
Hungarian Fans Display Homophobic Banners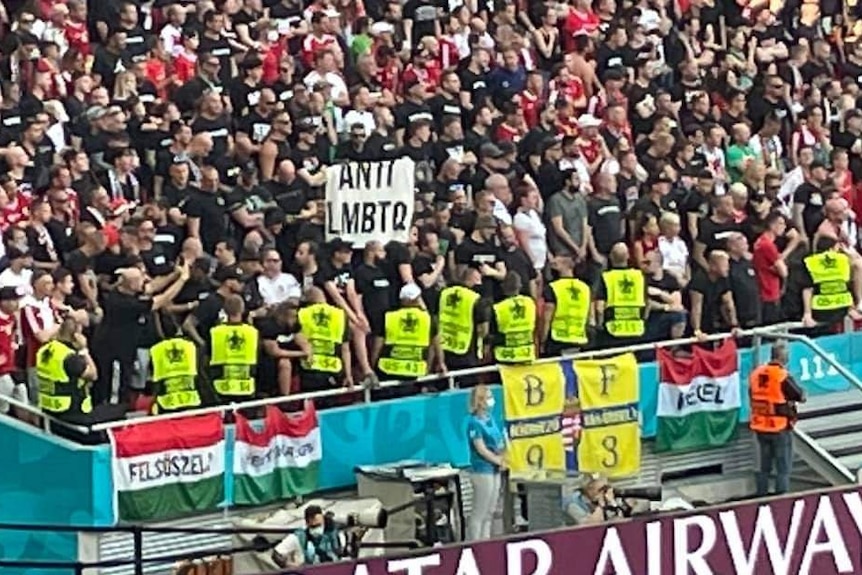 The question of LGBTQ (Lesbian, Gay, Bisexual, Transgender and Queer) has always drawn controversy in the football world with several conflicting views. During the game between Hungary and Portugal, some Hungarian fans were seen raising banners, which had "Anti- LMBTQ" written on them. Very recently in Hungary, their government passed a legislation, prohibiting any form or content that promotes homosexuality and gender change. UEFA and some football federations have endorsed campaigns promoting the acceptance of the LGBTQ community, going along with their 'rainbow' campaigns.
Denmark 4 Vs 1 Russia
After the Christian Erikson collapse incident, Denmark decided to go on with the rest of the game against Finland. The Danes ended up losing 1-0, a loss that most football were pained about, considering earlier events. Their next game against Belgium saw a highly-spirited Denmark side, but Belgium came out with a 2-1 win.
Going into their last group stage game against Russia on Monday night (June 21), there was only a slim chance of qualification for the Simon Kjaer captained Denmark side that has drawn sympathy from the football world. The Danish side needed a win with as many goals as possible to finish as one of the best third-placed teams in the group stages in other to qualify as best loosers. Damsgaard opened the scoring for Denmark in the 38th minute, and they never looked back from there. More goals from Leipzig forward, Poulsen, Chelsea's defender, Christensen, and Atalanta fullback, Maehle, ensured Denmark put 4 past Russia, and ensured that they had enough to get past the group stage. Russia, however, did get a consolatory goal. Dzyuba scored from the penalty spot in the 70th minute with Denmark already 2-0 up at the time, and seemed like a Russian comeback might be on the cards. That belief was however short lived when Denmark scored twice in the last 11 minutes of the game to give football fans a memorable night with a 4-1 win.
Cristiano Ronaldo Equals Ali Daei's International Goal Scoring Record
Ronaldo has in most cases stated that ''records chase'' him and it has been evident in this tournament. During the game between France and Portugal, the Juventus star equalled the record for most goals scored by a player on international duty, 109 goals, a record set by Iran's Ali Daei, during his playing years. Ronaldo scored twice against world champions, France, in a game Portugal needed to win or draw to qualify for the knockout stage of the competition.
Ronaldo's second strike from the spot sent Portugal through to the knockout rounds as the game ended 2-2. There was no better time for Ronaldo to score those goals than on Wednesday night (June 23), when Portugal were in dire need of it.
So far, Euro 2020 has been an exhilarating tournament on and off the pitch. When the knockout rounds kicks off today, June 26, we are hopeful of much more excitement.
Sources
The Guardian
Insider
First Post
Featured Images Sources:
ABC
NDTV Sports