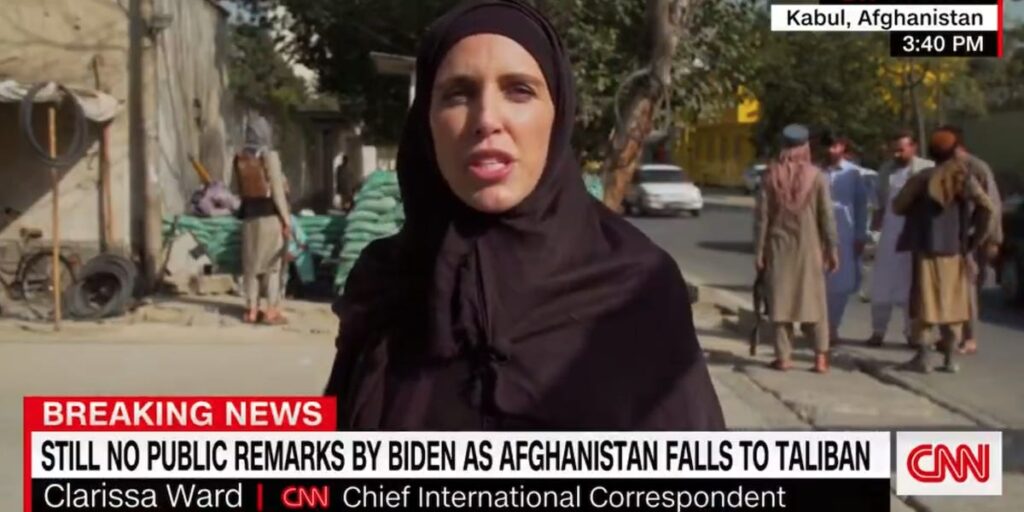 CNN reporter, Clarissa Ward, has revealed she was forced by Taliban forces guarding the presidential palace in Kabul to wear hijab and step aside.
According to her, the warning was given "because she's a woman".
The CNN reporter was just reporting the state of Afghanistan after the Taliban take over.
"They're just chanting death to America, but they seem friendly at the same time," she noted
Moments later, she was asked to leave the scene.
"They just told me to stand to the side because I'm a woman," she said.
She added that the sudden take over by the Taliban militants and the downfall of the Afghan Government, as well as the chaotic withdrawal of US forces had caused women to stay off the streets.
"I have seen a few women, but I will say I have seen far fewer women than I would ordinarily see walking down the streets of Kabul.
"There are so many of them across the country, and they've been doing bold and incredible reporting for many years, and now there's a very real fear that they might face retaliations for that or that certainly they won't be able to do their work anymore," she said.
On Monday, the United Nations Secretary-General, Antonio Guterres, reacted to the reports of human rights abuses by calling on the Taliban to "respect and protect international humanitarian law".
He said: "I am particularly concerned by accounts of mounting human rights violations against the women and girls of Afghanistan who fear a return to the darkest days. It is essential that the hard-won rights of Afghan women and girls are protected."
Source: Independent
Featured Images Sources
Business Insider
Independent