IPOB Threatens Six Days Lockdown If Nnamdi Kanu Is Not Released By November 4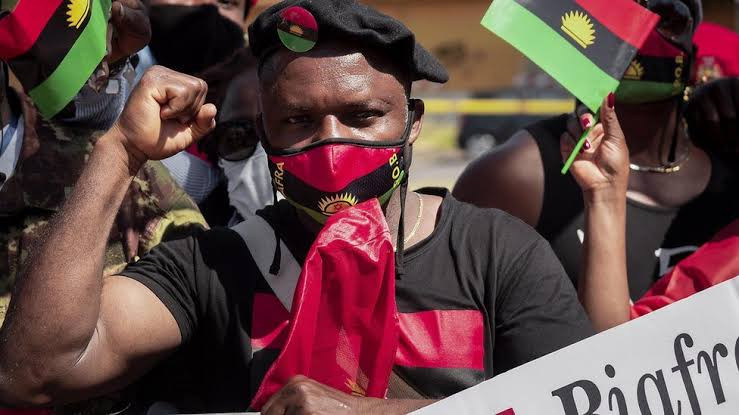 The group has accused the government of plans to use court adjournments to keep its leader in custody.
Nigerian secessionist group, the Indigenous People Of Biafra (IPOB), has threatened to impose a six-day lockdown in the Southeast region of the country if its leader Mazi Nnamdi Kanu is not released unconditionally from the custody of the Department of State Security by November 4, 2021.
The group made public their threat through a statement released by its media and publicity secretary Emma Powerful.
IPOB's sit-at-home calls has seen activities in the Southeast come to a stop every Monday, and this new order according to the group will take effect from November 5-10 with only the exception of Sunday, November 7 which the secessionist organization says is "a day our people worship the Almighty God, Chukwu Okike Abiama.''
IPOB's threat comes at a very critical time as the Anambra State gubernatorial election is scheduled to hold on November 6, a day which will also witness the lockdown as ordered by the group. Despite the insistence of the Independent National Electoral Commission (INEC) and the Nigerian government for elections to hold as planned, the group said the sit-at-home is meant to make "oppressors understand that they are not going to tolerate any plan to torment or abandon their leader in DSS custody through frivolous court adjournments.''
The group went further to regret inconveniences their lockdown order would cause the people, but insisted that no amount of sacrifices made by the people would be too much in their bid to secure the release of Nnamdi Kanu. IPOB said:
"Although we quite understand the pains and adverse effects of this option on our people, we are compelled to take it to achieve a better purpose in the collective interest of Biafrans. We have taken time to analyse what transpired on October 21 when our Leader was arraigned in court and discovered that the federal government is not sincere and only wants to humiliate him and keep him perpetually in DSS custody to rot there.''
President Muhammadu Buhari's government have seen secessionist groups especially in the Southeast and Western parts of the country emerge and clamour for the division of the country owing to perceived differences. The Nigerian government has replied with the use of force and arrests as Nnamdu Kanu and Yoruba secessionist leader Sunday Igboho are all in custody.
Source
IPOB