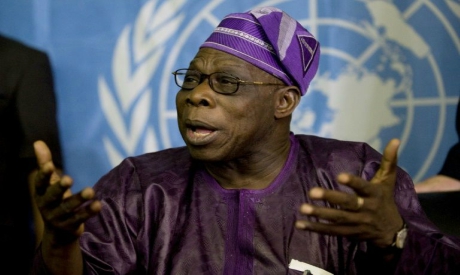 The ex-Nigerian leader was in Mekelle on Sunday to negotiate peace in the war-thorn East African nation.
Former President of Nigeria Olusegun Obasanjo who is the African Union's envoy for the Horn of Africa, and United Nations aid chief Martin Griffiths, visited Ethiopia's northern Tigray region on Sunday to discuss humanitarian access and negotiate a possible cease fire as the year-long conflict continues to intensify.
Obasanjo and Griffiths were in the regional capital of Mekelle on Sunday at the same time though it is still unclear if both actors were on the same trip. Reports from Tigray TV said both men met Dr Debretsion Gebremichael the president of the Tigray government in his office to discuss the "crisis in Ethiopia and ways to deliver humanitarian aid and regional issues." Obasanjo and Griffiths were reported to have returned to Addis Ababa after the meeting.
AFP news agency quoted a UN spokesperson as saying that Griffiths met "de-facto authorities'' of Tigray and emphasized on "the need for humanitarian access and protection of civilians through all areas under their control.''
It will be recalled that in November 2020, Prime Minister Abiy Ahmed sent military troops to Tigray in a bid to oust the Tigray People's Liberation Front (TPLF) of Debretsion from power in the state of Tigray. In June 2021, hard fighting rebels gained control of Mekelle.
Source
BBC
AFP
Featured Image Source: AFP