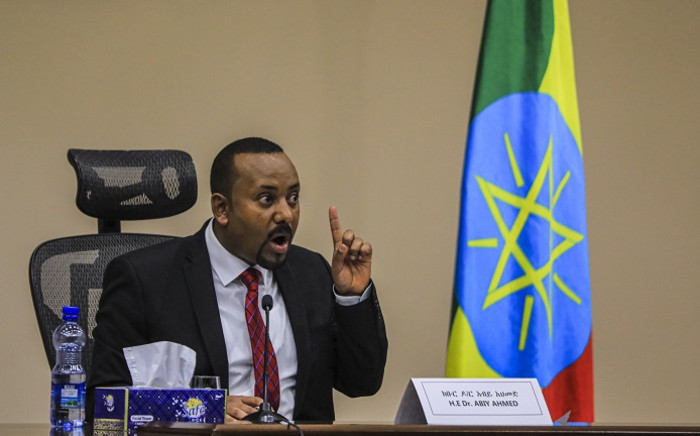 Abiy's military personality brought to the fold in quest to motivate his troops.
Ethiopian Prime Minister Abiy Ahmed has gone to oversee the war from the front lines, state-affiliated media reported on Wednesday 24 2021.
In Abiy's absence, Deputy Prime Minister Demeke Mekonnen Hassen would take charge of everyday government business, government spokesman Legesse Tulu told a news conference, according to a report from Fana news outlet.
Abiy declared late on Monday he was planning to personally lead the fight against Tigrayan forces and their allies.
"Let's meet at the war front, the time has come to lead the country with sacrifice,'' he wrote in a statement posted on social media.
The Nobel Peace Prize winner who is also a former soldier chaired the executive meeting Monday of the ruling Prosperity Party, and Defense Minister Abraham Belay told state media that:
"A security forces will start taking special measures and tactics as of tomorrow." He declined to elaborate.
Abiy's announcement to lead on the frontline has come as a shock to many, as it is seen to be born out of necessity.
In his 2019 Nobel acceptance speech Abiy spoke passionately about war:
"I crawled my way to peace through the dusty trenches of war years ago. … I witnessed firsthand the ugliness of war in frontline battles. … War is the epitome of hell for all involved. I know because I have been there and back."
He was awarded the Nobel Prize for making peace with neighboring Eritrea, on whose border he fought while stationed in the Tigray region.
The war has created a tremendous humanitarian catastrophe, leaving thousands dead, forcing millions from their homes, and several hundred thousand in famine-like climates as aid agencies battle to get food in war-affected areas.
Source
Reuters
AriseTV
Featured Image Source: AFP