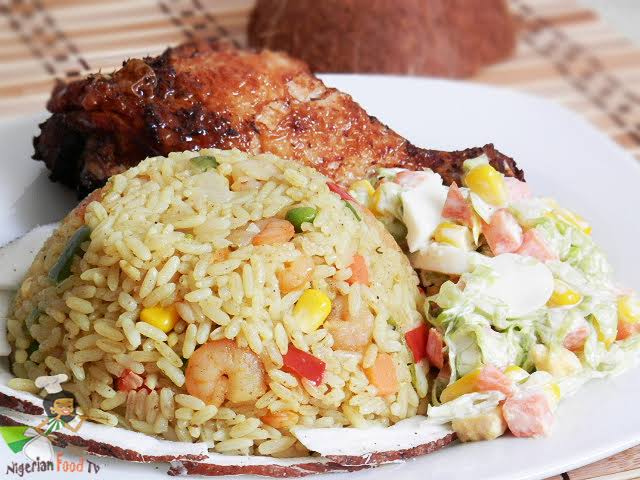 Are you a foodie like me? Then am sure you're already pondering on what to cook this festive season especially on Christmas day! As we already know, the most popular staple that would be served in most homes is RICE, and probably chicken or any other protein, maybe with salad.
Well, these are the traditional Christmas or festive meals served in Nigeria. But this year let's move from the traditional pattern and tweak it up a bit. Let's play with our rice.
On our menu today is Coconut Fried Rice.

Ingredients:
• Coconut spice or milk and flavour
• Parboiled rice
• Chicken or beef stock
• Carrot diced
• Green pepper diced
• Green peas diced
• Red bell pepper or big tatashi diced
• Spring onions or normal onions
• Liver or kidney or beef or sausage diced
• Shrimps (optional)
• Margarine or cooking fat
• Seasoning cubes and salt
• Black or Cameroon pepper
• Sweet corn
• Curry powder(optional)


Procedure:
1. Put in a pot, an amount of water enough to cook your parboiled rice. Add the coconut water or spice and flavour.

2. Once it boils, add half of 250 gram margarine, the black or Cameroun pepper, seasoning cubes, salt and little curry powder. And taste.

3. Add the parboiled rice. Put on medium heat and monitor until rice is soft and ready to eat. Turn off heat.

4. Take a sauce pan or another pot. Put half of 250 gram sachet margarine or cooking butter. Once it melts add your diced onions.

5. Once it simmers or fries a bit, add the diced liver or meat, shrimps, and stir. Add the diced vegetables, sweet corn and stir. If mix is too dry, you can add 1 spoon of vegetable oil.
6. Add seasoning cubes, salt and pepper (optional), and stir for about 2 minutes.

7. Add the coconut rice in portions little by little and stir until everything is properly incorporated.


Note: If the vegetables and rice are much, you can divide the portion into two or as much as u want.

8. Taste, turn off heat and serve with preferred protein and salad.

Trust me, it's another feel of fried rice that would keep your guests and family members wanting more.
In my next article I will be writing on different types of salad that goes well with this dish.

ENJOY!
Featured Image Source: Nigerian Food TV