"I recorded their prayers and I'm sampling on a song about eating my wife's p*ssy" – Temmie Ovwassa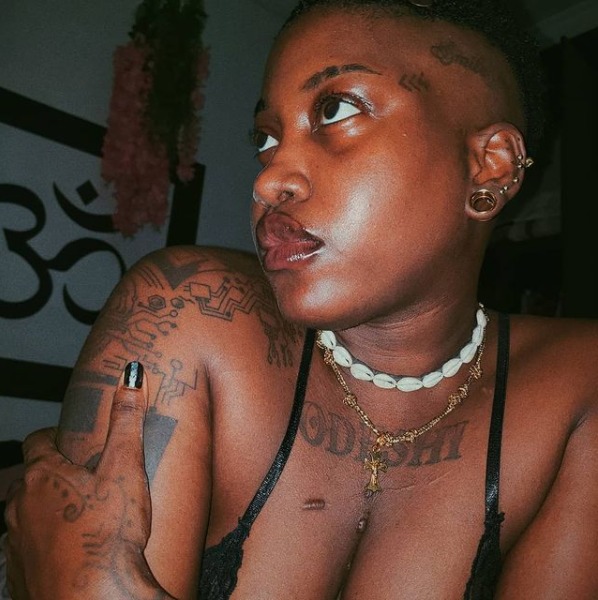 Temmie Ovwassa fumes at neighbours disrupting her sleep, vows to payback.
Former YBNL star, Temmie Ovwassa, has taken to her Twitter handle to report her next-door neighbours who were reportedly shouting and disturbing her sleep while they observed their midnight prayers.
Temmie Ovwassa expressed her displeasure at her Christian neighbours for holding a prayer session at midnight and alleged they served as discomfort to other people living in the area. In a swift reaction, she vowed to take revenge by releasing a track meant to call them out.
The controversial singer noted that she will release a new song which will feature her neighbours' recorded prayers and give it a title relating to "eating my wife's pussy."
"My Christian neighbors are shouting and praying at 12 fucking A.M like other people don't deserve to sleep, So I recorded their prayers and I'm sampling on a song about eating my wife's pussy…The labor of our heroes must not be in vain. Shalom,'' the singer vowed.
The 'Afefe' crooner has been shredded in quite a number of controversies in recent times. In 2021, she openly declared to be an unapologetic lesbian and further claimed that there was no going back on her decision to be part of the Nigerian gay community.
Temmie Ovwassa popularly known as the YBNL Princess was signed into the YBNL Nation record label in 2015 but left the group after a disagreement ensued between her and the label owner, Olamide. The singer has two albums to her collections. Temmie's debut album "E be like say dem swear for me" was released in 2020 featuring 12 tracks while her second album titled "Songs from the closet" was released in 2021.
Source
Twitter