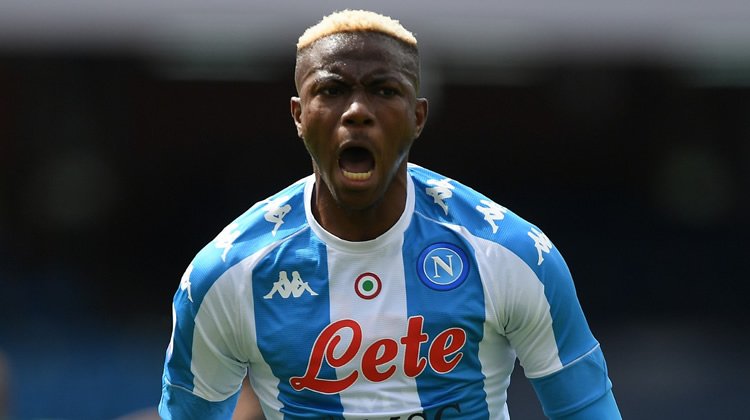 Osimhen has been out of action since November 2021.
Napoli of Italy forward, Victor Osimhen, has been cleared by doctors after he recovered from COVID and injury to return to training with Napoli and hopes he makes his return to competitive football against Bologna later this month.
The striker was expected to be part of the team that will represent Nigeria at the ongoing AFCON in Cameroon but pulled out of the team after he tested positive to COVID-19 last month. This would be the second time that Osimhen will contract the virus while in Nigeria.
Oshimen sustained a facial injury in November 2021, which made his selection for the Super Eagles for the AFCON a doubt. However, there was hope for his participation after multiple facial fractures surgery suggested he could come back early before COVID-19 forced him out of the team.
The 23-year-old striker returned to Italy after he recovered from the virus to see the specialist who carried out surgery on his face. He was cleared after consultation with the specialist to resume training.
He was spotted in the full training session of Napoli at the Castel Volturno on Thursday, 13 January 2022 with the rest of the squad. Napoli will face Fiorentina later today in a Coppa Italia match at the Diego Armando Maradona Stadium in Naples, Italy. Osimhen is likely to be back in full action for Napoli during their next league match against Bologna on Monday, 17th, January 2022. If not selected for the match, he will be in action in a local derby match against Salernitana on Sunday, 23rd January 2022.
Oshimen sustained a facial injury last November in a clash of heads with Inter Milan defender Milan Skriniar while in action for Napoli. He is Napoli's top scorer so far this season with 9 goals in 14 matches in both the Serie A and the Europa League
Source
The Nation