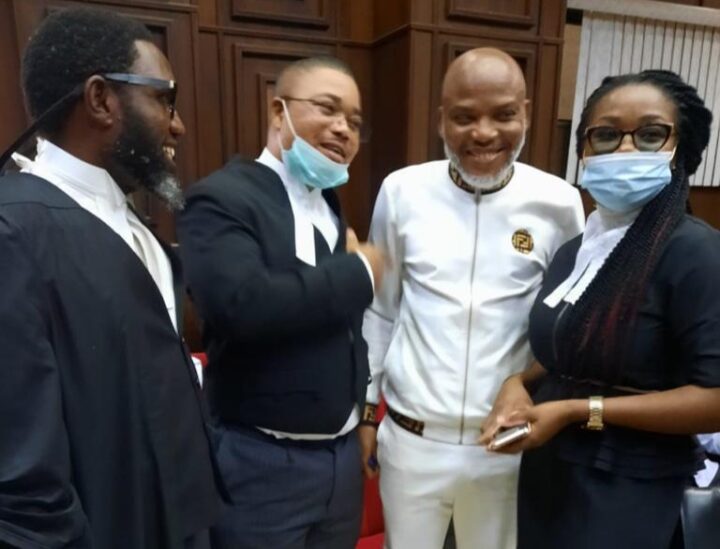 Kanu is being detained at the Department of State Services.
The planned resumption of the trial of Nnamdi Kanu, detained leader of the Indigenous People of Biafra (IPOB) was stalled at a Federal High Court in Abuja on Tuesday, January, 18, 2022.
When the case was set to commence, Kanu's lawyer, Mike Ozekhome (SAN), asked for more time to study the amended 15 count charges which were filled by the prosecution yesterday, January 17, 2022. He argued that the defence was ambushed with the introduction of fresh charges by the prosecution and the proof of evidence served on the defence by the prosecution was not enough for the prosecution to file fresh charges.
Meanwhile, lead prosecuting lawyer, Magaji Labaran, denied the claim by Mike Ozekhome (SAN) that the amended charges were an ambush. He also faulted the claim by the defence counsel that Kanu has not been properly fed, allowed to practice his faith, and denied free access to members of his family.
However, Labaran did not object to the defence's request for an adjournment to study the amended charges. Following this, the Presiding Judge, Binta Nyako, moved the trial to Wednesday, January 19, 2022.
It was earlier reported that the Federal Government amended the terrorism charges filed against Nnamdi Kanu, increasing the counts from seven to fifteen ahead of the planned resumption of the trial today in Abuja.
Reacting to fresh charges by the prosecuting team, a lawyer from Kanu's team, Maxwell Opara, claimed that the amended charges are a plot by the Federal Government to delay the case. In his words, "My annoyance is not about 15 worthless and empty amended charges, but it is just a calculated attempt to delay the trial and have an excuse to further incarcerate Nnamdi Kanu in solitary confinement."
Source
The Nation