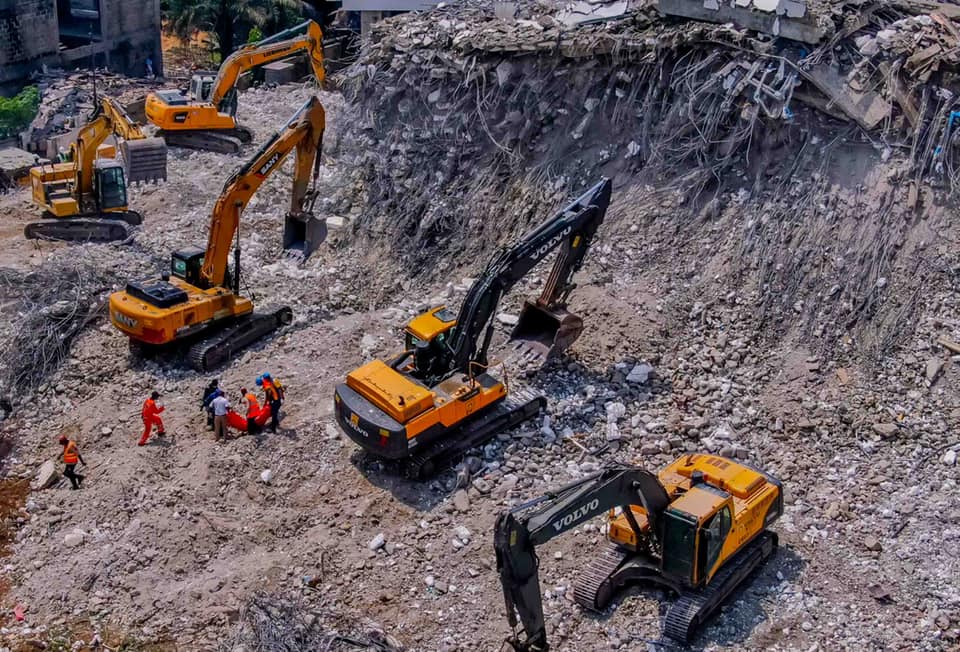 LASEMA has explained rescue operations at the disaster site.
Lagos State Emergency Management Agency (LASEMA), has stated that no victim of the collapsed 21-storey Ikoyi building died during the rescue operations.
This was disclosed by the Director-General of LASEMA, Dr.Oluwafemi Oke-Osanyintolu, during an inquiry into how 46 people died in the building that collapsed in November 2021. The News Agency of Nigeria (NAN) reported that the agency was led in evidence by Mr. A.S. Odugbemi, counsel to Lagos State Building Control Agency.
Oke-Osanyintolu stated that the rescue operation at the site was done by both professional and non-professionals, who helped with handling equipment. He noted that the agency was confronted with a national emergency and Governor Sanwo-Olu instructed them to carry out rescue operations.
While narrating how the agency carried out rescue operation at the site, Oke-Osanyintolu noted that the agency first carried out a primary assessment while the building was divided into four parts. He added that drones and delsa equipment were deployed to ascertain if there was any life in the debris before they began to work.
While responding to Mr. Ola Adeosun, the counsel to Prowess Engineering Nig. Ltd., on the possibility that the agency's operation led to the death of trapped victims in the debris, Oke-Osanyintolu said: "My lord, with my medical background, I have attended to a lot of emergencies within the state and federal, I would say, No."
He stated further: "Where we put the excavator is the first quadrum. We use the delsa to detect if there is someone alive, and I say this type of collapse building was unique. We used a delsa and drone, I can say that probability is close to zero."
Adeosun further asked Oke-Osanyintolu if the agency confirmed if there was anybody alive in the debris before they moved the equipment, the director-general said: "Hundred percent yes, my lord, there was nobody that died in the course of our intervention, to the best of my knowledge."
Source
Pulse NG
Featured Image Source: Premium Times