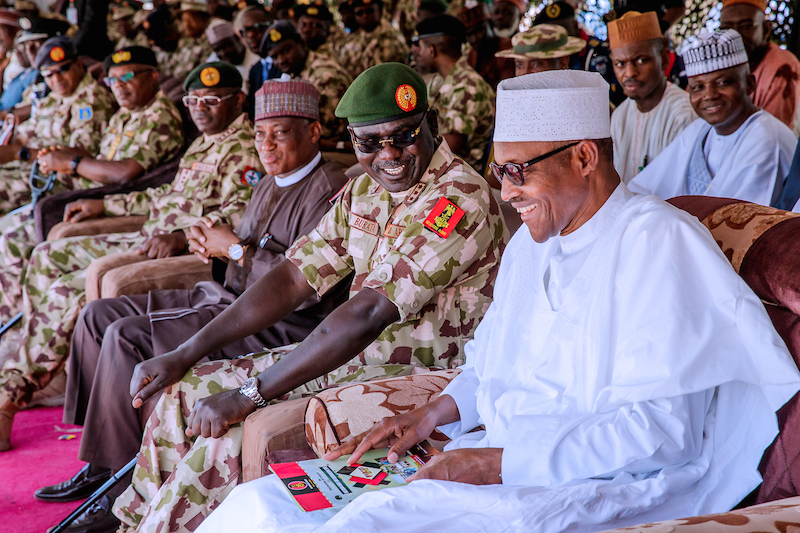 West Africa has witnessed three military takeover within the last two years.
Nigeria's president, Muhammadu Buhari, has stated that a military coup cannot happen in Nigeria again.
The President stated this at a dinner in honour of the 2022 Committee of Business, Political, Media, and Civil Society Leaders at the State House, Abuja on Monday, 31st January 2022. Buhari's statement is a response to Ekiti State Governor, Kayode Fayemi, who raised concerns over the resurgence of military takeovers in some African countries. President Buhari asserted that ''Nigeria has passed through that stage for good."
Also, Nduka Obaigbena, the convener of the group and chairman of THISDAY/ARISE Media Group, noted that Nigeria is facing a "historic transition like no other," and with crises across Africa and at home, the committee emerged to defend the national interest. In his words: "The 2022 Committee was put together to defend Nigeria in a time of crisis and in a time of transition, we must defend the national interest.''
Nigeria, Africa's most populous nation, also has a history of military intervention. While reacting to the coup in Guinea and Mali last November, President Buhari, who also overthrew a democratically elected government in 1983, insisted that coup d'état should not be encouraged in Africa.
"One of the important points that the ECOWAS Heads of State and Government make is that coups and coup d'état generally are completely unacceptable. We cannot continue to have a situation where they are tolerated for the simple reason that in Africa, West Africa in particular, we have gone way beyond military coups as an answer to the question of a change in political actors," the former military head of state said.
"There is a very strong feeling amongst the heads of states that we must insist, other international bodies: the UN, EU, and other regional groups must support the imposition of sanctions on individuals and groups that choose not to follow the democratic process of change of government, but go by way of coup d'état."
Source
Peoples Gazette