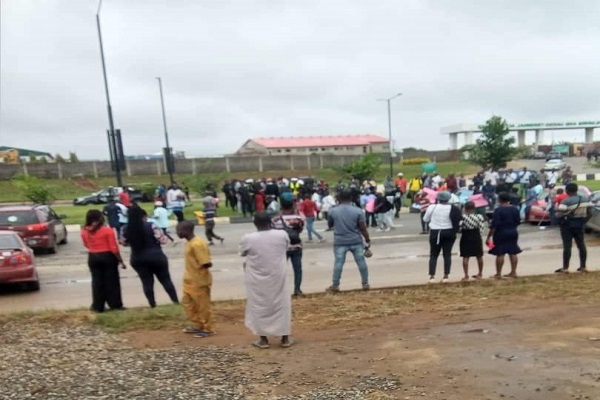 The students' body has vowed to ensure the government pays attention to the educational sector.
As part of moves aimed at ensuring the Nigerian government and the Academic Staff Union of Universities reach a resolution that will bring an end to the over seven months old strike, the National Association of Nigerian Students (NANS) have continued protesting and has blocked roads leading to the Murtala Muhammed International Airport in Lagos State.
The students defied the heavy downpour and came out in mass today, September 19, 2022 to show their displeasure towards the government and solidarity with ASUU. Relevant security agencies such as the Lagos State Police Command, RRS operatives, Lagos Airport Police Command, and more, were equally on ground to ensure the protest does not turn sour.
NANS' protest has caused gridlock on the road leading to the airport as the students chant Aluta songs to show their displeasure towards the administration of President Muhammadu Buhari for neglecting the educational sector.
Source
The Nation
Featured Image Credit: