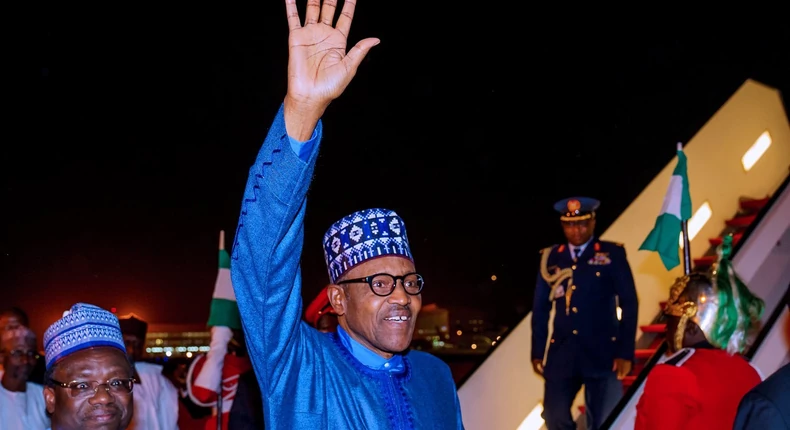 Buhari will attend the First World Bio Summit.
Nigeria's president, Muhammadu Buhari, will depart the country on Sunday, October 23, 2022 for Seoul, South Korea to attend the First World Bio Summit, 2022. Presidential spokesman, Femi Adesina, made this disclosure in a statement released on Saturday, October 22.
Themed "The Future of Vaccine and Bio-Health," the summit is hosted by the government of the Republic of Korea and the World Health Organization (WHO). It is expected to hold for two days (October 25-26).
Adesina's statement disclosed that Nigeria alongside five other African countries were invited to the summit by the WHO and European Union (EU). CEOs of global vaccine and biologics companies are expected to attend the summit, share and shape ideas on the theme.
Part of Adesina's statement said:
"Global health security profoundly depends on the innovation and development in the bio-industry. The partnership between the Republic of Korea and WHO, is therefore, to underscore the above historic truth. It is also to underscore the need to launch international stage-efforts on the nature of creativity and innovation required to contain any future health pandemic.''
President Buhari who will deliver a speech at the global gathering will also have a separate meeting with the President of the Republic of Korea, Yoon Suk-yeol, to discuss effective partnerships that will have positive impacts on Nigerians.
Among other dignitaries, Nigeria's Foreign Affairs Minister, Geoffrey Onyeama, Health Minister Osagie Ehanire, and Adeniyi Adebayo (Minister of Industry, Trade and Investment), form part of Buhari's entourage.
Source
Pulse NG