Violence Grips Ivory Coast As Ouattara Is Reelected For A Third Term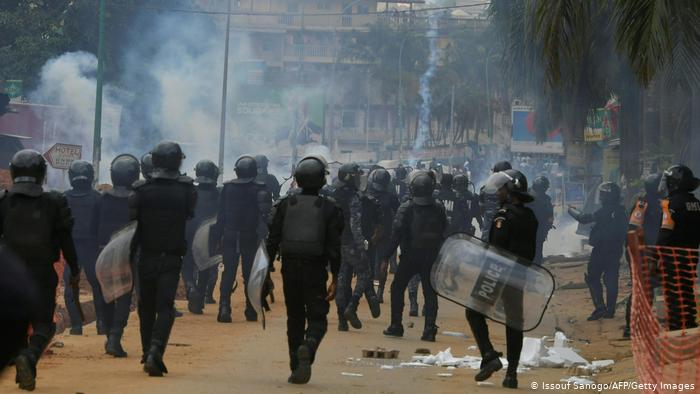 President Ouattara's reelection have seen violence grip the nation as opposition vows to unseat him
Tensions in the West African nation of Ivory Coast have been high since the reelection of President Allassane Ouattara for a third term in Office on Wednesday, November 4, 2020. Riots in Ivory Coast have seen over 40 people loose their lives since Ouattara declared his intention to run for a third term in power. President Ouattara's Rally of Houphouëtists for Democracy and Peace (RHDP) Party spokesman, Mamadou Toure, revealed that on the night of Tuesday, November 3, violent clashes saw two supporters of an Ivorian minister killed in the central town of Toumodi.
Two young people from the minister's entourage who wanted to help the minister's brother were shot dead
Mamadou Toure
Tuesday's clash happened close to the home of the country's Minister of Equipment and Road Maintenance, Amede Koffi Kouakou in Toumodi, as four people lost their lives, and houses razed by fire during clashes that saw many casualties. Toure also disclosed that the convoy of Communication Minister, Sidi Tiemoko Toure, was also attacked but no casualties were recorded.
Following the unrest in the nation, access to the homes of Outtara's main opponents, Henri Konan Bedie and Pascal Affi N'Guessan have been blocked by security agents to avoid more clashes as the ruling party feels they are responsible for causing havoc in the nation. It will be recalled that the President's opponents made it clear that a third term goes against the country's two-term limit as stated in the constitution. Ouattara on the other hand has made it clear to opposition that a constitutional reform in 2016 permits him to run for a third term.
Ivorians fear that the present state of the nation might result to a repeat of the 2010 electoral crises which ousted former President, Laurent Gbagbo, for Ouattara, and saw over 3,000 people loose their lives.
Source
Aljazeera
Featured Image Source: Deutsche Welle