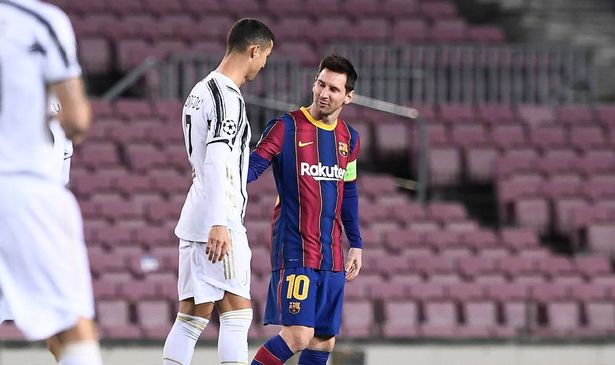 Juventus of Italy star player, Cristiano Ronaldo, has shrugged off claims of rivalry between him and FC Barcelona star man, Lionel Messi, after the Italian side beat the Spanish heavyweights 3-0 at the Camp Nou on Tuesday (December 8) night. Ronaldo who missed the first-leg of the encounter after testing positive for corona virus and had hitherto not scored against the Spanish side in the Champions League, ended it all with a brace from the penalty spot, while Weston Mckennie also got his name on the score sheet for the Andrea Pirlo led side.
Messi failed to find the back of the net after making 11 shots with 7 on target as Juve ended top of Group G. Ronaldo who prior the start of the game, briefly shared an embrace with Messi stated that his relationship with the Argentinean has always been cordial.
I have always had a very cordial relationship with him. I shared 12, 13 or 14 years of award ceremonies with him. I never saw him as a rival. He always tries to do what is best for his team and me too. I always got along very well with him. But we know that in football, for the press, for the show, a rivalry is sought, but I have always gotten along well with him. I see him as always
Cristiano Ronaldo

Ronaldo also stated that Barcelona is going through a difficult time, but insisted they are still Barcelona mindless.
Barcelona are going through a difficult time, but it is still Barcelona. The truth is that we are very happy, we knew it was an almost impossible mission, it was a complicated mission and we played well. The key was to get into the game well, we scored two early and from there we believed it was possible
Ronaldo
Source
Linda IkejiFeatured Image Source: Daily Star