Gunmen Attack Imo Prison, Free Inmates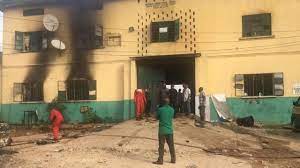 Gunmen attacked the Owerri Correctional Prison in the Imo State capital, in the early hours of Monday, freeing over 1500 inmates.
The gunmen also invaded the Imo State Police Command headquarters in Owerri and burnt down almost all the vehicles parked at the command headquarters.
This attack took place from about 1am till 3am on Monday.
It has been reported that the prison facility was broken with the aid of explosives and dynamite.
The attackers were also reported to have asked the inmates to go home.
This attack was confirmed by the state's police spokesperson, Orlando Ikeokwu.
Source: Punch News
Featured Image Source: bbc.com