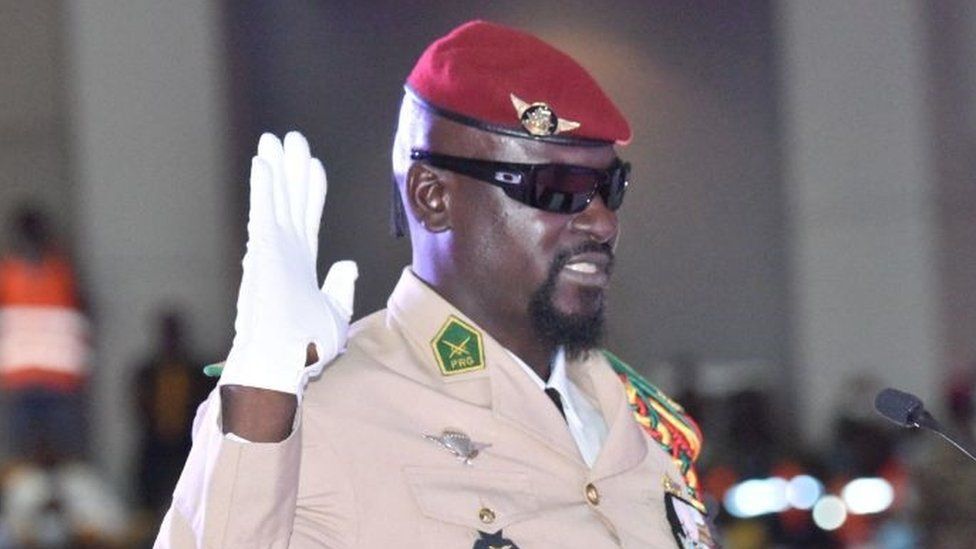 The coup leader is set to lead an interim government that will run the affairs of the country until elections.
Guinean military chief, Colonel Mamady Doumbouya, leader of the September 5 coup which ousted Alpha Condé from power has been sworn in as the country's interim president. The 41-year-old former French legionnaire becomes the second youngest African leader after Mali's Assimi Goita who also assumed power through a coup.
As part of plans to restore civilian rule in the West African country, Doumbouya is barred from contesting future elections.
The Guinean military have been condemned for the September 5 coup as the country has been suspended from the Economic Community of West African States (ECOWAS) and the African Union (AU). The suspensions were equally followed by sanctions and demand for a return to constitutional order in six months.
Despite the pressure from the international community, the exact whereabouts of the country's former 83-year-old leader (Alpha Condé) is unknown as Doumbouya assured the French media that he is with them in a "safe place.''
Speaking on his plans at the Mohammed V palace in the country's capital, Conakry, Doumbouya revealed that his mission is to "refound the state'' with measures such as writing a new constitution, fighting corruption, reforming the electoral system and ensuring "free, credible and transparent" elections. The military chieftain also promised to "respect all the national and international commitments to which the country has subscribed".
Though the country's military junta has not disclosed how long it intends to stay in power before organizing elections, it has barred anyone forming part of the interim government expected to have a civilian prime minister from contesting.
Colonel Mamady Doumbouya
Prior his rise to power, Doumbouya  maintained a low profile behind the scenes, but his international military experience is a defining factor in his career.
Doumbouya is a French-trained soldier and has served in the French military. Part of his 15-year career saw him serve in missions in countries like Afghanistan, Central African Republic, Ivory Coast, Djibouti, and close protection in countries like the UK, Israel, Cyprus, and Guinea.
BBC reports that according to news website, Africa Guinea, the new Guinean leader is friends with his Malian counterpart, Goita. Both officers (according to Africa Guinea) met in Burkina Faso during a US army organized training in 2018.
Source
BBC
Featured Images Sources
BBC
Reuters