Sex Tape: Jane Mena Sues Tonto Dikeh, Demands 500M For Damages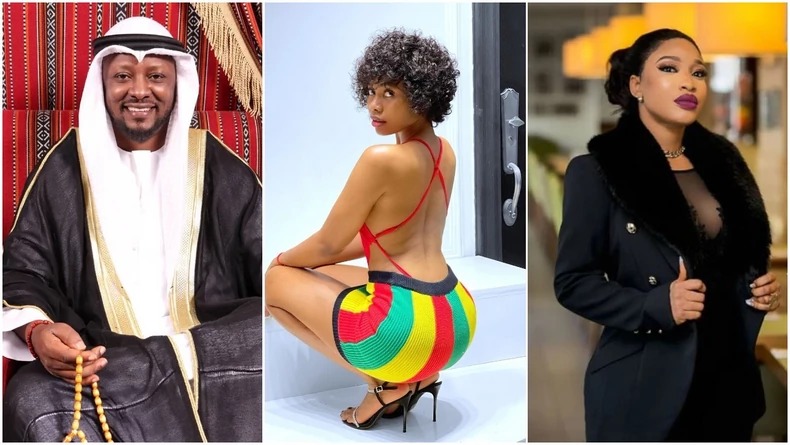 The Nigerian social media influencer has broken her silence over allegations of a sex tape involving the movie star's ex-boyfriend with a lawsuit.
Popular Nigerian Instagram influencer Jane Mena has filed a law suit against Nollywood actress Tonto Dikeh. In September, Tonto who had been engulfed in a war of words with her former boyfriend Prince Kpokpogri after a bitter split alleged that her ex is in possession of Mena's sex tapes and could make it public.
Tonto's claim shocked fans on Instagram as they wondered why Mena who is popular on Instagram for twerking was brought into the saga. Others wondered about the consequences of Tonto's post on Mena's marital life.
Mena maintained silence and spared little time before filing a law suit against the popular Nigerian actor, requesting an immediate retraction of the publications on the social media handles of Tonto, a retraction publication in four national dailies, and a 500 million naira sum for damages.
Despite Mena's petition which described the publications of Tonto as damaging and malicious, the actress took to her Instagram page to blast the influencer, questioning why Mena would "begging me behind the scene to save your marriage and begging to see me for an appointment to explain yourself and then come with a petition.''
Tonto who was unapologetic went further to say: "Am not as dumb as your boyfriend so I wouldn't be releasing your sex tape nor your call a week ago. See you in court.'' Both parties have made strong claims, it remains to be seen how events unfold in court.
Source
Pulse NG
Instagram @Tontolet
Featured Image Source: Pulse NG