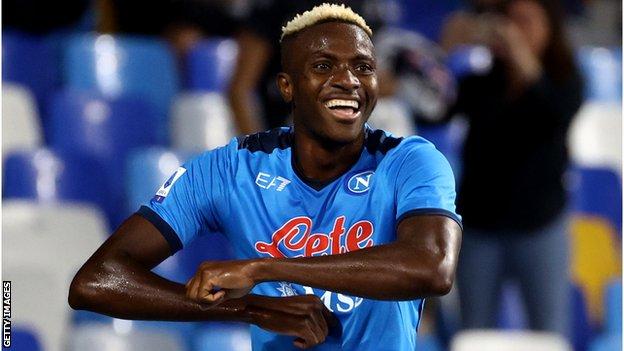 The Napoli striker has recounted his experiences in the streets of Lagos while growing up.
Nigerian footballer Victor Osimhen has shed some lights on his background story before attaining stardom. The SSC Napoli of Italy star revealed he had to do a lot of menial jobs such as "cleaning the gutters for 20 naira'' and "fetch water for 80 Naira'' (sums way below a dollar), to survive in the streets of Lagos.
Since his 2020 summer move from French league side Lille to Napoli, Osimhen is currently in a superb form for the Partenopei, netting five times in six league outings as the Luciano Spaletti maintains a perfect run in the league with 8 wins out of eight games. He has also been brilliant for the Nigerian national team in front of goal.
Osimhen, 22, was raised in Lagos (Africa's commercial hub), and he has revealed some of the jobs he did to survive the hassle of playing football in Nigeria as an amateur. The Super Eagles of Nigeria star said: "I found pleasure in doing these things because I believed when I worked so hard to get this money, it was important for me. I had consciousness on how to spend this money and help my family.''
"While growing up, my brother was selling newspapers, my sister oranges. I was in the traffic with water and I'd had to chase cars, give them water to get the money. I feel like these struggles helped me in life.
"I am grateful for where I am today because of what I'd been through, it shaped me into the man I am. I am really grateful to God for that."
Most Nigerians especially in recent times that have seen the country's economy dwindle share Osimhen's story and the former Sporting Charleroi of Belgium star is aware of that. "Most people are familiar when I say this because they have come through even worse [situations] than mine and where I grew up, nothing is promised there because whatever you want to get, you have to work so hard for it'' Osimhen added.
Osimhen described his rise to professional football as "one of my biggest achievements in life.'' Former Nigerian professionals like Kanu Nwankwo have tipped the Napoli man for greatness as he continues his journey in the football world.
Source
Goal
Featured Image Source: Getty