Do You Know About The Ovahimba Tribe In Namibia That Allows Guests Sleep With Their Wives On The First Night Of Visit?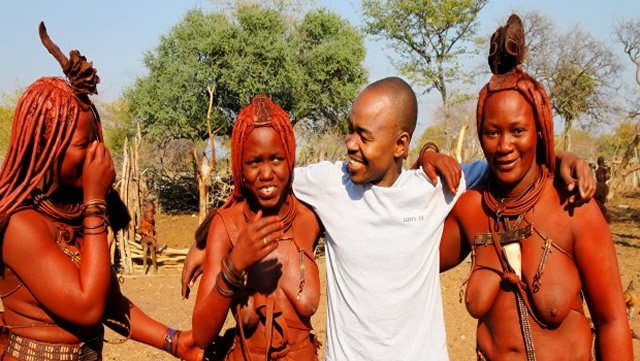 Without a doubt, colonialism dealt a heavy blow on the African cultural and religious practices, but decades after colonialism, Africans are beginning to tell their stories and retrace cultural practices abandoned because they were deemed "evil" and "uncivilized'' by the colonialists.
However, some parts of Africa are still fortunate to maintain their practices, maybe because the colonialists considered these parts not beneficial to their economy abroad or for some unknown reasons which meant they did not have to deal with abandoning their culture or religious ways for Western life.
The Ovahimba or Omhimba people of the Kunene region in Namibia are a perfect example of Africa's rich cultural life. One of the things that have drawn researchers to the Ovahimba is the fact that visitors are gifted their host's wife in the community to engage in sex during the first night of visit before they return to their husband the next morning. Something considered bizarre in a world where sex has been commercialized in form of prostitution, pornography, and more.
Another intriguing point about the Ovahimba is the fact that they do not have their bath with water due to the harsh climatic condition of the region. Rather, they apply red ochre on their skins with the use of a daily smoke bath to maintain hygiene due to the scarcity of water to bath.
A nomadic tribe, the Ovahimba are predominately livestock breeders and farmers while their women are usually responsible for domestic chores such as gathering firewood, cooking, serving dishes, and searching for freshwater.
Though a lot of stories have been told about the Himba people especially from the Western media, the video documentary of popular Ghanaian vlogger, Wode Maya, caught our attention because the Ovahimba people were allowed to tell their story by themselves.
Watch the video below:
Source
YouTube
Featured Image Source: Hadithi Africa