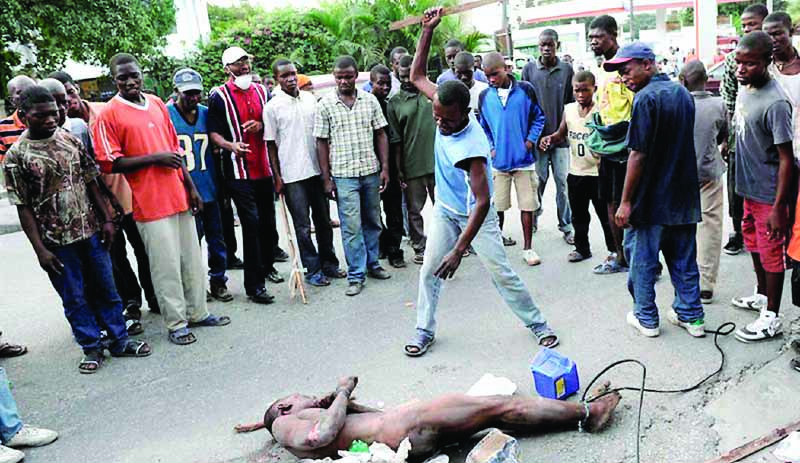 An investigation by Nigerian newspaper Daily Trust revealed that in 2019, no fewer than 105 people fell victims of jungle justice in at least 25 of Nigeria's 36 states.
Jungle justice has become very rampant in Africa, especially Sub-Saharan Africa. This is an evidence of a state of anarchy, where lawlessness is predominant and people get to do whatever they want. Due to this lawlessness, human beings who make up the bulk of the society disregard the laws and code of conduct of the state. Even from the description of what kind of justice it is, 'jungle', one can perceive that this act is purely inhuman. Typically, it should only be associated with animals. However, people have infused it into our human society.
Wikipedia defines jungle justice as "a form of public extrajudicial killings in Nigeria and Cameroon, where an alleged criminal is humiliated, beaten or summarily executed by a crowd or vigilantes".It is also referred to as mob or street justice. Although, it is not peculiar to Nigeria and Cameroon alone, it is oftentimes, most visible in these countries. The truth is, there is nothing just about jungle justice. Sometimes, the alleged criminal is innocent, but is subjected to a gruesome death. A criminologist at the Kaduna State University in Nigeria, Hauwa Yusuf, once said: "A lot of innocent Africans have fallen victim to jungle justice.''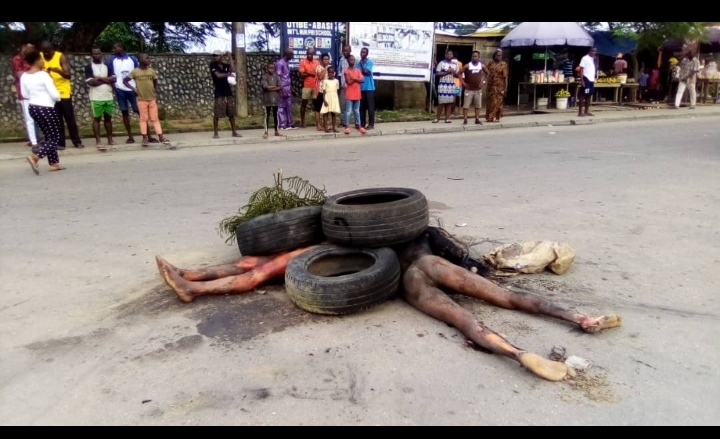 The victims, who are denied hearing and any of their fundamental human rights are usually dragged on the streets, stoned, severely beaten or in worst cases, even burnt. This is definitely not right. Any suspect to a crime should be given fair hearing, and not for a mob to take laws into their hands to deal with such individual. The mob here becomes the complainant, prosecution, judge, and judgment executioner at the same time. It is even more painful that sometimes, while a group of people are engaging in this, police officers are at the scene, but they do nothing to stop this.
A typical scenario of jungle justice is when a man is seen to have snatched a handbag from a lady walking on a street. The man is chased at the shouts of 'olé', 'thief' or any other name. According to the judicial laws, when this man is arrested and tried, he could be sentenced to one or two years in prison. However, with the provision of jungle justice, when caught, this man will be thoroughly beaten or even murdered as a result of stealing a bag. This happens because the mob will want to punish him based on their inhuman tendencies. At this point, no one is thinking real justice, but just to thoroughly punish the victim. And who cares if he dies in the process?
Jungle justice is an abuse to fundamental human rights and the rate seems to be getting higher by the day. However, some blame it on the porous judicial system which has proven incapable of dealing with criminals justly and promptly. This is probably why people will see to the punishment of a criminal without waiting for the intervention of the laws of the state. Speaking on this in an interview with DW, Festus Okoye, a barrister and Nigerian human rights activist, said: "The slow pace of the African judicial system makes the people impatient, hence they engage in extra-judicial killings, which is illegal and a violation of human rights.'' To a large extent, this can be counted as true.
The Way Out
There is a solution to every problem. The only challenge is related to people's willingness to embrace the solution and work towards solving the underlying problems. Instead of curbing crime rate in the continent, as the perpetrators hope it will, jungle justice has only succeeded in violating the fundamental human rights of people. However, there is a viable solution. Festus Okoye mentioned that: "We need proper education and enlightenment for the people to tell them of the consequence of using extra-judicial measures when an individual has not been convicted by a properly constituted court of law.'' While enlightening the people on the importance of complying with the laws of the land, the deficiencies in the criminal justice system should also be dealt with. There should be working institutions to ensure justice is carried out efficiently and rapidly.
Featured Image Source: The Sun Nigeria