"It is addictive" – Ed Sheeran Extols Fireboy's 'Peru' As They work On A Collaboration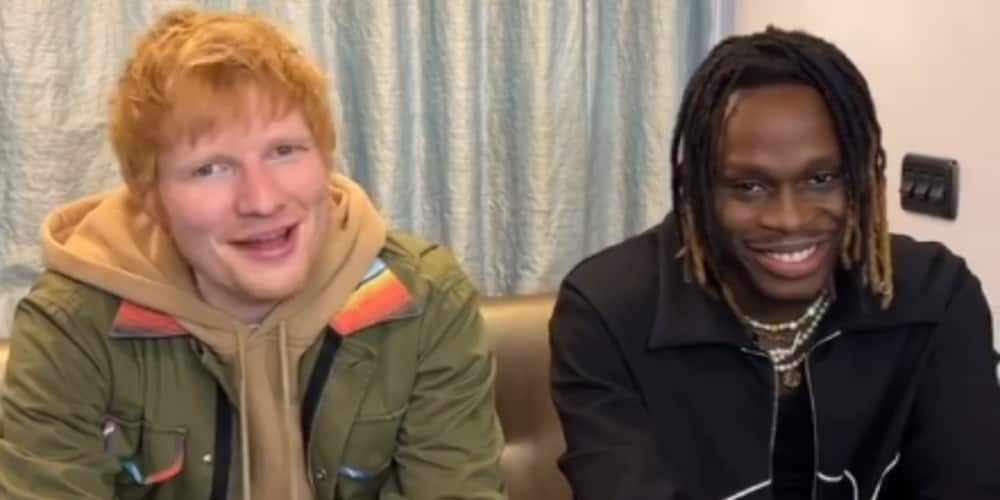 English singer Edward Christopher Sheeran (Ed Sheeran) has collaborated with Fireboy DML in a remix of hit song 'Peru.'
In a video clip which was released to the public via Instagram, Ed Sheeran and Fireboy did a mini acapella of the hit song. The video left fans in awe because Ed Sheeran who is not a Nigerian was able to sing the Yoruba lyrics perfectly.
Ed Sheeran, in another video, revealed that 'Peru' is an addictive song. He also admitted to being obsessed with the song and has had it on repeat.
According to Ed Sheeran, a friend sent the song to him, telling him that the YBNL star would love to have him on the remix.
Fireboy DML is a part of YBNL Nation, a record Label owned by the rapper, Olamide. He released his debut studio album, 'Tears and Goosebumps' in 2019.
He disclosed in an interview with Beat FM that he never intended to release 'Peru', but after recording it for about 45-30 minutes, he decided to release it. He also revealed that he was feeling tipsy and was in a good mood when he recorded the song. His boss, Olamide got to know about the song, and it was made public.
The successful singer's previous hit song 'Champion' also gained popularity in 2020 when the song was used by FC Bayern Munich for the UEFA super cup celebration.
Announcing the release date for his joint project with Ed Sheeran, Fireboy promised a drop on Friday, the 24th of December 2021.
The announcement is already generating high expectations among fans of both superstars.