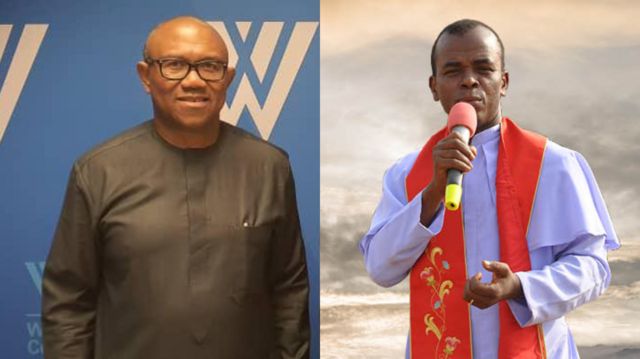 The Catholic priest accused the former Anambra state governor of being 'stingy.'
The media team of Labour Party's Presidential candidate Peter Obi has said the former governor of Anambra state will not react to claims by Catholic priest Reverend Father Ejike Mbaka that he is a 'stingy man.'
It will be recalled that in a viral video which made the rounds on Wednesday, June 15, the Spiritual Director of the Adoration Ministries called out Peter Obi, saying: "A stingy man cannot be our president.''
"We are already hungry. We need a generous person. Nigerians are hungry. Are we not hungry?" Mbaka asked.
The clergy went further to back Atiku Abubakar, insisting that Nigeria would be better off with the former vice president at the helm of affairs.
"It is now that Atiku is seriously contesting for President; now that he is contesting without Peter Obi; it is now that he is serious? We want somebody that is serious,'' Mbaka who backed Buhari's campaign in 2015 said.
Peter Obi's media team in a statement released on Thursday, June 16, discredited statements making the rounds as the Labour Party's presidential candidate reply to Mbaka, and noted that Obi is not planning to reply anytime soon.
"Our attention have been drawn to a statement credited to Mr. Peter Obi as his reply to Fr. Ejike Mbaka. We wish to state for the record that Mr. Peter Obi did not and is not planning to issue any reply,'' the statement read.
"We advise that any medium trying to publish such an unsigned letter should clarify its authenticity from Mr. Obi's Media Office."
Sources
LIB
Channels
Featured Image Credit: BBC Igbo