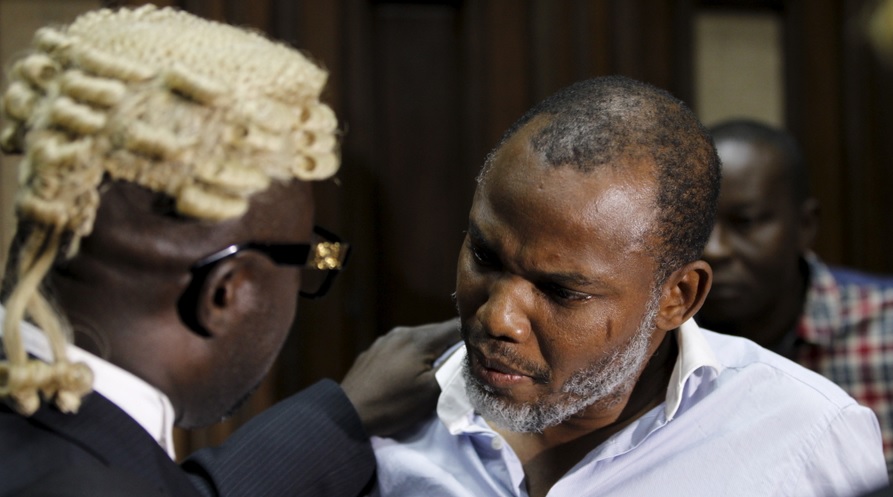 The group believes its leader is not safe in Abuja.
Nigerian secessionist group, the Indigenous People of Biafra, have asked the federal government to free its leader Nnamdi Kanu or move him to a prison located in South-Eastern Nigeria. IPOB made the call owing to Tuesday's attack on Kuje Prison.
Kanu is in detention at the Department of State Services (DSS) facility in Abuja, but a statement from IPOB alleged that there is a plot to attack the facility and kill its leader.
"Our intelligence unit uncovered the Fulani evil plan against our leader. We are therefore demanding that our leader Mazi Nnamdi Kanu be transferred immediately to a prison in the Eastern region for his safety because if anything untoward happens to him Nigeria will see and feel total and consuming madness even after the Biafran Nation's freedom is fully achieved they will never have peace,'' part of the statement read.
"We are demanding for the unconditional release of our leader or for him to be transferred to a prison in the South-East. Our leader is not safe in Abuja. The impostor president is aware of what happened in katsina and Kuje prison. The next attack is DSS and their singular target as always will be Biafrans detained in the custody of the DSS and our leader Nnamdi Kanu is detained in the DSS custody.''
The group went further to allege that the detention of "our great leader Mazi Nnamdi Kanu in DSS custody has assumed a very dangerous stage, this is in view of the ongoing secret meetings between the security Agencies especially DSS of which one of the outcomes was the mobilization of the bandits for a make-believe attack on DSS facility.''
IPOB called on global powers and international organizations to intervene, and threatened serious consequences should their members in custody come in harm's way.
"We call on the civilised countries in the world especially UK Government, US government, EU, AU, German Government, Israeli government, Russian government, Canadian Government, French government and other reputable human right institutions across the world to prevail on Nigeria Government and her compromised security agencies to release our leader Mazi Nnamdi Kanu from DSS custody unhurt because if anything happens to our leader Mazi Nnamdi Kanu in DSS custody, the story would never remain the same and the consequences is better not imagined," IPOB warned.
"We want to let the world know that IPOB members were profiled and detained in Kuje prison yards for simply being persons indigenous to Biafra and of Igbo race. we have their details and want them alive because if anything untoward happens to our comrades who are detained in Kuje, IPOB will never take it easy with Nigeria Government and her security agencies.
"It is high time to release these innocent folks who were detained illegally and unjustly, Nigeria cannot continue to detain them indefinitely while allowing terrorists and bandits to come and slaughter them under a disguised arrangements by the Buhari-Fulani administration.
"A very pertinent question to ask is: how can bandits and terrorists be rampaging the North, even supposedly attacking president's convoy and breaking into prison yards to release their colleagues while Buhari and Fulani government deployed and continue to deploy battalion of soldiers to occupy many peaceful communities in Biafraland?"
Source
The Nation
Featured Image Credit: Premium Times NG