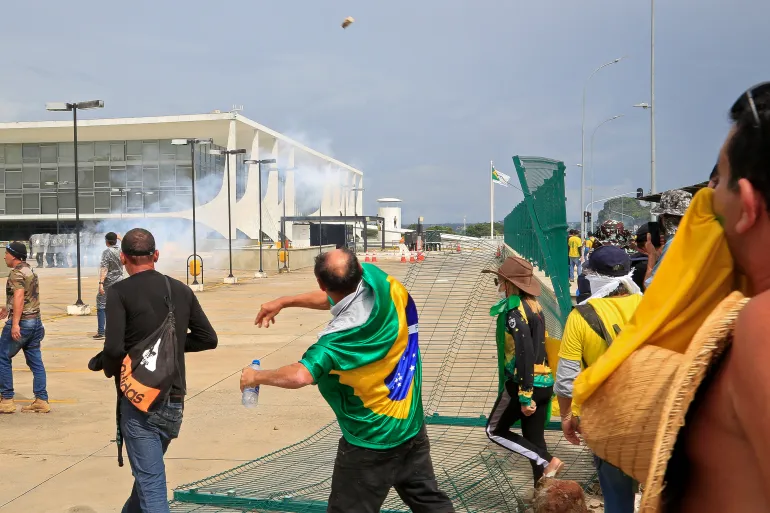 Hundreds of Brazilians have been arrested.
World leaders have condemned the public protest held in Brazil on Sunday, January 8, 2023, which saw the Brazilian Congress, Presidential Congress, and Supreme Court in Brasilia ransacked by thousands of protesters who have questioned the outcome of the October 2022 presidential election which saw Jair Bolsonaro ousted from office for President Lula.
The protesters have refused to accept the outcome of the election, called for military intervention, and asked President Lula to resign from office.
Reacting to the protest, US President, Joe Biden, described it as "outrageous'' and called for peace to be restored.
Biden said:
"I condemn the assault on democracy and on the peaceful transfer of power in Brazil. Brazil's democratic institutions have our full support and the will of the Brazilian people must not be undermined.''
British Prime Minister labeled the violent protest as an attack on democracy while Justin Trudeau of Canada said "respecting the democratic will of the people is paramount in any democracy.''
French President, Emmanuel Macron, German Chancellor, Olaf Scholz, and the Chinese government have also condemned Sunday's riot in Brazil.
The Brazilian government responded to the protest by arresting hundreds of people as the governor of Brasilia has been suspended on grounds of failing to provide security.
President Luiz Inácio Lula da Silva has blamed Bolsonaro for "encouraging'' the riot, while the former president has rejected the accusations, but stated that Sunday's riot had gone beyond democratic practice.
Source
BBC