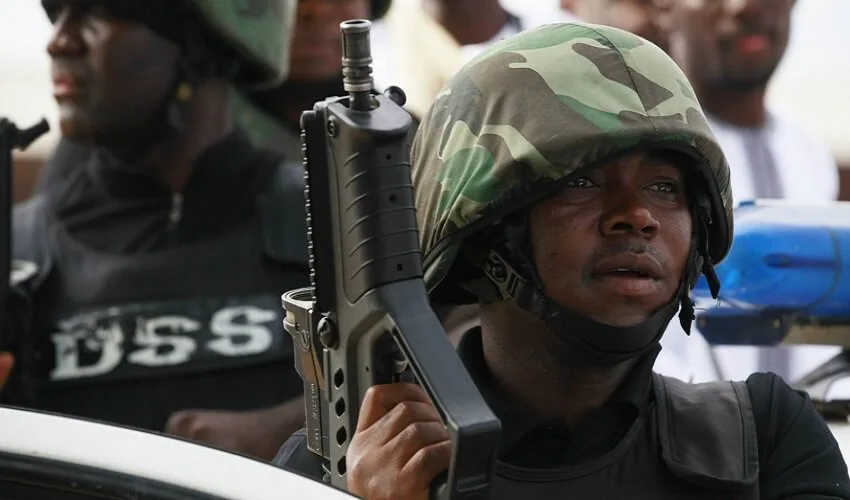 Nigeria's Department of State Services (DSS) has stated that there is a plot to install an interim government in Nigeria that would hinder the inauguration of Asiwaju Bola Ahmed Tinubu as president on May 29, 2023.
Tinubu, 71, was declared winner of the 2023 presidential election on March 1, 2023 after an election that was marred by incidences of violence and electoral malpractices.
Opposition party candidates Peter Obi of the Labour Party and Atiku Abubakar of the Peoples Democratic Party (PDP) have challenged the outcome of the election and have filed a petition in court against the announcement of the former Lagos State governor as the winner of the polls.
In a public statement on Tuesday, March 28, 2023, the DSS, through its Public Relations Officer, Peter Afunanya, said they had uncovered plots by some unnamed political actors to sabotage the inauguration of Tinubu by embarking on nationwide protests that would bring about the declaration of a state of emergency.
Related: President-Elect Tinubu Secretly Flown Out Of Nigeria
DSS also said the interim government plotters are planning to get court injunctions that will halt the inauguration ceremony scheduled to hold on May 29.
The statement said:
"The Department of State Services (DSS) has identified some key players in the plot for an Interim Government in Nigeria. The Service considers the plot, being pursued by these entrenched interests, as not only an aberration but a mischievous way to set aside the constitution and undermine civil rule as well as plunge the country into an avoidable crisis. The illegality is totally unacceptable in a democracy and to the peace-loving Nigerians. This is even more so that the machination is taking place after the peaceful conduct of the elections in most parts of the country."
It will be recalled that the Vice Presidential candidate of the Labour Party, Datti Baba-Ahmed, called on President Muhammadu Buhari and the Chief Justice of Nigeria not to carry on with the inauguration process, noting that it was "illegal.''
According to Datti, the APC presidential candidate did not meet the requirements to be declared the winner of the February 25 presidential election.