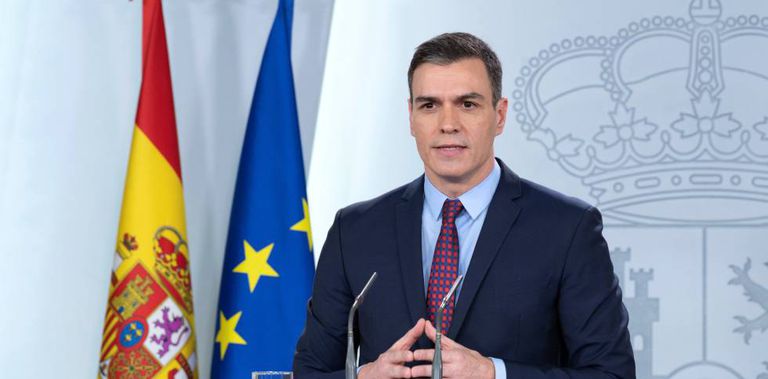 In a bid to curtail the massive spread of the corona virus pandemic in Spain, the Spanish government on Sunday, October 25, 2020, declared a state of emergency, and imposed a nationwide curfew with exception though, to the Canary Island, which is still open, to tourists.With effect from the evening of Sunday, October 25, 2020, the nationwide state of emergency which is the second of its kind in Spain is expected to last until May 9, 2021. Prime Minister, Pedro Sánchez Pérez-Castejón, during a news conference on Sunday evening tagged it ''the most important sanitary emergency in Spain of the last century". He made the masses understand that every second spent in this state of emergency, is of extreme importance, as experts believe that they can fully overcome the virus, within this period.
The Prime Minister enjoined the Spanish people to make necessary sacrifices despite the inconveniences it will cause their social life, movement, and every other aspect of their life, because less contact, less movement, and staying indoors often, are instrumental to the protection of lives at this fragile period in Spanish history.
The reality is that Europe and Spain are immersed in a second wave of the pandemic. We are living in an extreme situation. It is the most serious in the last half-century. We have to protect our economic and work activity and preserve, as far as we can, the rhythms of our lives. Sacrifices will be indispensable. No one, not the government of Spain nor its regional governments, want to impose a single restriction that isn't necessary to flatten the curve and protect public health
Pedro Sánchez Pérez-Castejón
Though the nationwide curfew is an overnight one, it is expected to commence daily from 11:00pm to 6:00AM in every part of the European nation. Regional heads are vested with the authority to adjust timing and necessary conditions if need be. The Canary Island though, was exempted from the nationwide curfew because it's contagion rate is very low at the moment, thereby, making a curfew unnecessary and ill-adviced, at the moment. The reason for an overnight curfew, instead of a broad daylight's, is mainly due to the late night dinner habit which the Spanish people are accustomed to, and is responsible for constituting social gatherings which aids the spread of the virus.
As of this week, Spain emerged as the first European nation to exceed one million cases of COVID-19 with 1,046,132 cases and 34,752 related deaths.
Sources
Murcia Today
Linda Ikeji
Aljazeera
Featured Image Source: El Pais