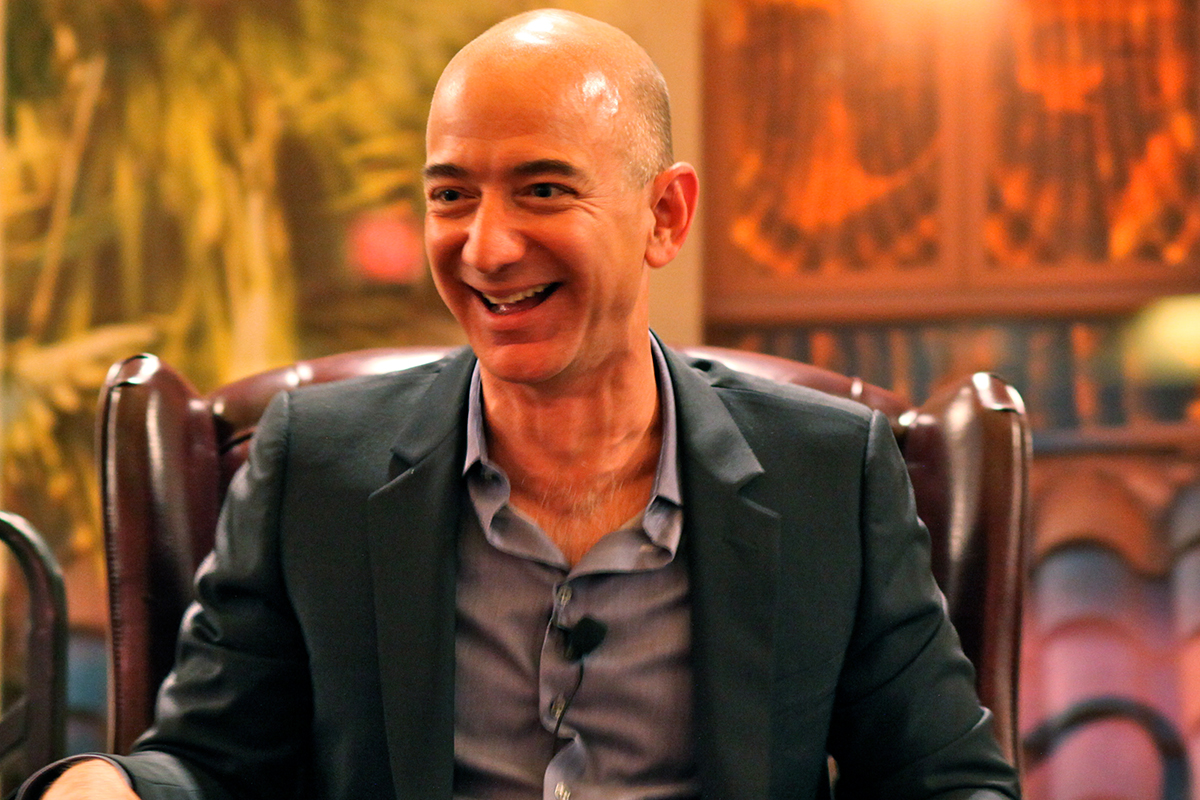 Amazon boss, Jeff Bezos, has been named the Forbes World Richest Man for the fourth consecutive year. Despite stiff competition from Elon Musk, Jeff has remained consistent atop the world money bags list.
A significant improvement in his net worth saw the 57-year-old billionaire move from $64 billion to $177 billion in net worth owing to spike in Amazon shares. Elon Musk is on second spot with a net worth of $151. The Tesla boss is the highest gainer on the list with a whopping $126.4 billion gain to move from the 31st spot a year ago when he was worth $24.6 billion.
Billionaires on Forbes list for this year, are worth a total of $13.1 trillion, a huge improvement from last year's $8 trillion.
See Forbes Top Ten Billionaires List Below:
1. Jeff Bezos
NET WORTH: $177 BILLION
SOURCE OF WEALTH: AMAZON
RESIDENCE: SEATTLE
2. Elon Musk
NET WORTH: $151 BILLION
SOURCE OF WEALTH: TESLA, SPACEX
RESIDENCE: AUSTIN, TEXAS
3. Bernard Arnault
NET WORTH: $150 BILLION
SOURCE OF WEALTH: LUXURY GOODS
RESIDENCE: PARIS
4. Bill Gates
NET WORTH: $124 BILLION
SOURCE OF WEALTH: MICROSOFT
RESIDENCE: MEDINA, WASHINGTON
5. Mark Zuckerberg
NET WORTH: $97 BILLION
SOURCE OF WEALTH: FACEBOOK
RESIDENCE: PALO ALTO, CALIFORNIA
6. Warren Buffett
NET WORTH: $96 BILLION
SOURCE OF WEALTH: BERKSHIRE HATHAWAY
RESIDENCE: OMAHA, NEBRASKA
7. Larry Ellison
NET WORTH: $93 BILLION
SOURCE OF WEALTH: SOFTWARE
RESIDENCE: LANAI, HAWAII
8. Larry Page
NET WORTH: $91.5 BILLION
SOURCE OF WEALTH: GOOGLE
RESIDENCE: PALO ALTO, CALIFORNIA
9. Sergey Brin
NET WORTH: $89 BILLION
SOURCE OF WEALTH: GOOGLE
RESIDENCE: LOS ALTOS, CALIFORNIA
10. Mukesh Ambani
NET WORTH: $84.5 BILLION
SOURCE OF WEALTH: DIVERSIFIED
RESIDENCE: MUMBAI, INDIA
Source
Linda Ikeji
Featured Image Source: The CEO Magazine