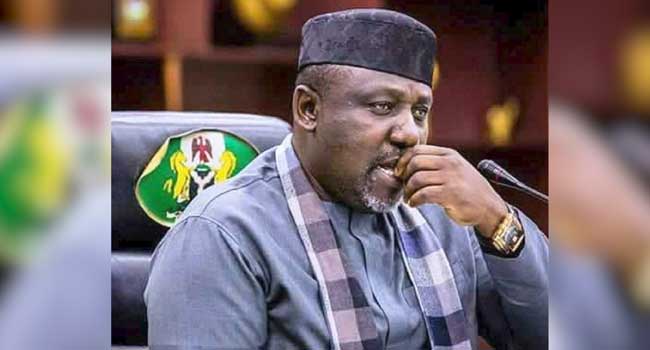 Former governor of Imo State, Rochas Okorocha, has been arrested by the Economic and Financial Crimes Commission (EFCC). The Senator representing Imo-West was apprehended on Tuesday, April 13, 2021 in his private office in Abuja over accusations relating to financial crimes during his time as governor of the south-eastern state.
In 2020, EFCC revealed that it had returned to the state government, a huge sum of N2.7 billion recovered from Okorocha. The zonal head of the Port Harcourt branch of EFCC, Imam Usman, disclosed that the returned sum was part of a total sum of N7.9 billion recovered from different bank accounts that were linked to the Nigerian senator. Usman went further to reveal that while N2.5 billion was returned to the short-lived administration of Emeka Ihedioha, the government of Hope Uzodinma received N514 million. Further, Usman noted that once investigations were completed, Okorocha would be prosecuted.
Reacting to the development, Okorocha through his media aide, Sam Onwuemeodo, noted that since EFCC is doing its job, he would fully comply.
To us, the Commission is doing its job and should be given the needed co-operation. And Okorocha being a law-abiding citizen, would always cooperate with the Commission over the Matters in Courts. EFCC is not a slaughter House, but a very responsible institution and should be seen as such
Sam Onwuemeodo
The statement also claimed that Rochas is being investigated due to the new leadership in EFCC
The truth is that, Okorocha left as the governor of Imo State on May 28, 2019. And shortly after his exit as Governor, Imo State Government wrote petitions upon petitions against him. The EFCC investigated the petitions and has been in various Courts of the land with Okorocha, to that effect. And if the EFCC has decided to invite Okorocha for Clarifications on the matters already in Courts, especially with a new Chairman at the helm of affairs at the Commission, there is nothing wrong with that. The matters between EFCC and Okorocha over his governorship in Imo, have been pending in various Courts of the land. At the end of the day, we would know whether the Commission will be withdrawing the Cases in Courts, or would continue with the cases already in Courts
Sam Onwuemeodo
Governor Hope Uzodinma of Imo State and Okorocha, both of APC party, have been at loggerheads over claims by the governor that Okorocha is corrupted and has personalized state-owned properties.
Sources
Sahara Reporters
Linda Ikeji
Featured Image Source: Channels Television