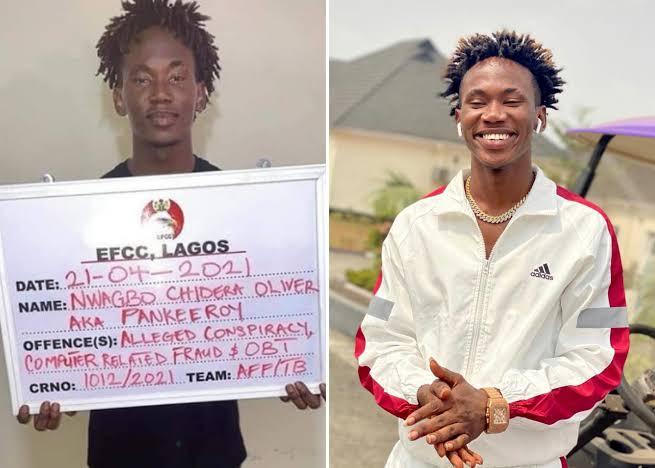 Instagram comedian, Pankeeroy, whose real name is Nwagbo Oliver Chidera, has been arrested by the Economic and Financial Crimes Commission (EFCC) over alleged internet fraud.
The commission said that the Instagram comedian was arrested as well as 34 others on Wednesday.
The arrest was said to be carried out at their hideout in Lekki, Lagos state, after a report on their activities.
Reports have said that Pankeeroy admitted to scamming people by claiming he sells bitcoin vouchers via the bitcoincoretrading.com platform.
IPhones, luxury cars, laptops, android devices and Macbook devices were recovered from Pankeeroy and the other suspects.
Another suspect identified as Christian admitted that he had been disguising as Dave Federick, a 58-year-old US citizen on a mission in Syria.
This false identity has helped him to lure his unsuspecting victims and defraud them.
The Commission noted that he defrauded an aged Asian-American lady of over $475,000.
The other suspects include Chinedu Omesu Christian, Gafar Kunle Adedamola, Chuka AnieboRichard, Nwagbo Chidera Oliver, Dibo Ayomide Samson, Rotimi Segun Damilola, Habeeb Banire Damilola, Afolabi Bolutife Michael, and others.
Source: thecable.ng
Featured Image Source: mojidelano.com