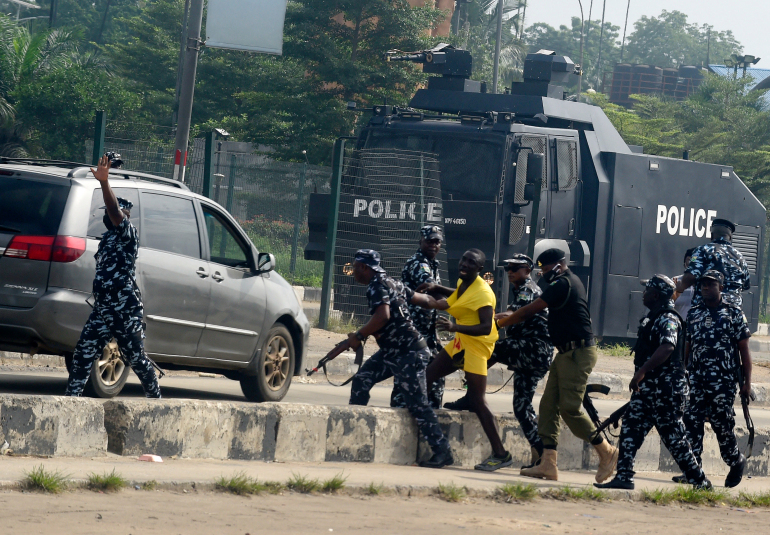 The Nigerian police, today, June 12, 2021, fired tear gas at peaceful anti-government protesters in the country's biggest commercial city, Lagos, and the nation's capital, Abuja. Protesters were also arrested and injured in a bid to forcefully quell the protests on Nigeria's Democracy Day.
Following the recent rise in criminal activities in the West African nation which has caused insecurity as well as decline in the economy, activists called for nationwide protests on Saturday, June 12, the celebration of Nigeria's return to civilian rule for over 20 years (Democracy Day). Saturday's protests which also held in sother South-Western Nigerian cities such as Ibadan, Abeokuta, Osogbo, and Akure, were aimed at calling out the Nigerian government for bad governance, insecurity, and the recent ban on social media platform , Twitter, in the country.
Hundreds of citizens gathered to protest in Lagos (a city of over 20 million inhabitants) with placards saying ''Buhari Must Go'' and called for reforms which the president had promised during his campaign in 2019. However, the Nigerian police spared little time in dispersing protesters by firing teargas. Similar scenario happened in Abuja as a detachment of the police and soldiers dispersed peaceful protesters with tear gas. The Nigerian police excused their actions by claiming the protests were unauthorized.
Since the #EndSARS movement in October 2020 which was crushed through the use of force by the Nigerian government as shots were fired at peaceful protesters by the Nigerian army on the night of October 20, 2020, killing and injuring some of the protesters at the Lekki toll gate, Lagos State, this is the first time protests have been held simultaneously in different cities.
Source
Aljazeera
Featured Images Sources
Aljazeera