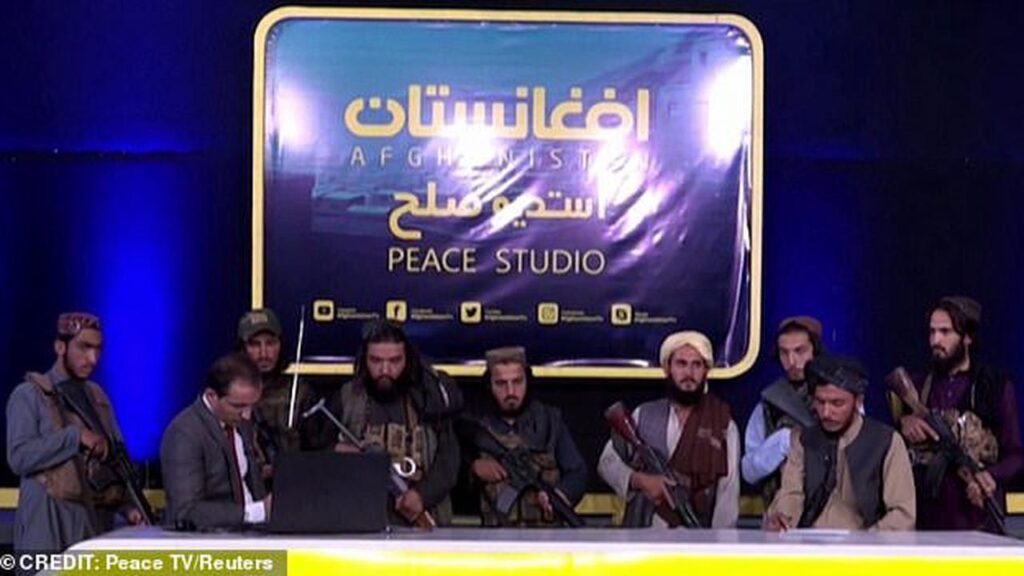 An Afghan TV presenter was shown terrified, casting live news while being surrounded by gun-wielding Taliban militants.
The Taliban militants were reported to have invaded the building, disrupting the newscaster and demanded that he praised the Talibans.
BBC reporter, Yalda Hakim tweeted a video clip of the news and tagged it "Afghanistan TV – surreal."
He added:
"This is what a political debate now looks like on Afghan TV, Taliban foot soldiers watching over the host.
"The presenter talks about the collapse of the Ghani govt & says the Islamic Emirate says the Afghan people should not to be afraid #Afghanistan."
In the video, the presenter is seen being surrounded by eight armed Taliban thugs, as he reads the news.
In another tweet by Iranian journalist Masih Alinejad, the video was captioned: "This is surreal. 
"Taliban militants are posing behind this visibly petrified TV host with guns and making him to say that people of #Afghanistan shouldn't be scared of the Islamic Emirate.
"Taliban itself is synonymous with fear in the minds of millions. This is just another proof."
According to reports, the Taliban militants stormed the building on Sunday, August 29 and demanded the presenter speak with them.
The presenter, however, carried out an on-air debate with them, where he talked about the collapse of the Afghan governemnt and urged the populace not to be afraid.
Source: Linda Ikeji
Featured Image Source: Daily Advent