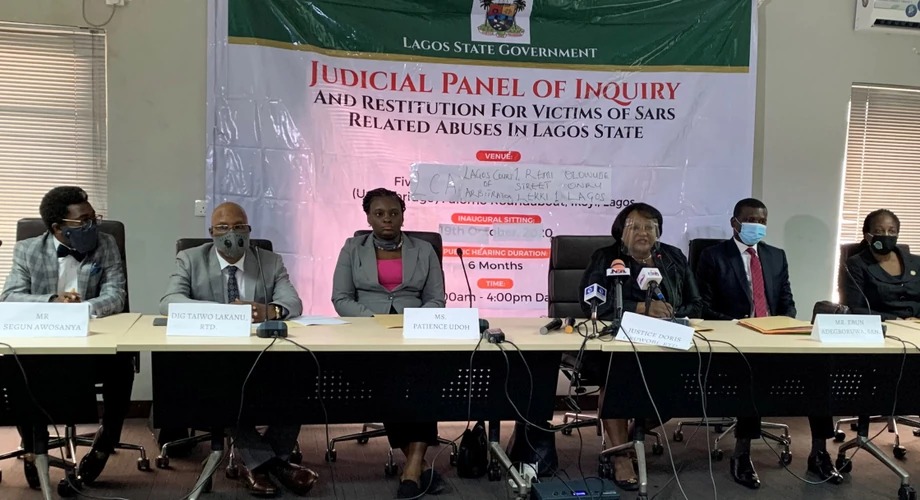 The panel appeared to have been making progress until suspension on Saturday.
As the October 19, 2021 deadline given to the Lagos State Judicial Panel of Inquiry to conclude investigations into the October 20, 2020 Lekki Toll Gate shootings by the Nigerian army on peaceful protesters edges closer, the panel has suspended its sitting until further notice.
Justice Doris Okuwobi (Rtd), the chairperson of the panel, made this disclosure on Saturday, September 18, 2021. Justice Doris while explaining the suspension of the sitting, revealed that there are reports the panel is expected to work on in other to reach conclusion before the deadline.
There are two reports that we are expected to work on, we are not close enough to any of them, we cannot continue with the sitting and end up the assignment without concluding. So we will not be sitting from today

Justice Doris Okuwobi
She went further to state that the panel will "send hearing notices" once they find themselves "in a comfortable situation.''
"But as soon as we find ourselves in a comfortable situation, we will send hearing notices to cases that have been listed. Please bear with us, we cannot speculate on any further extension. We have to work towards completing the assignment as early as we can."
Justice Doris
Justice Doris also assured Nigerians that the break will be useful for the panel in its bid to "evaluate, collate and make findings" on the October 20, 2020 Lekki shooting which saw innocent Nigerians loose their lives to bullets from the country's military.
Source
Pulse NG