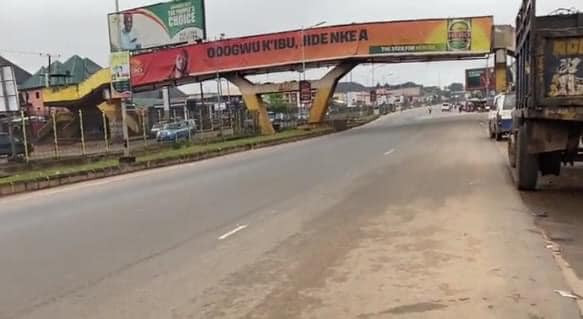 Citizens decided to play safe and remain indoors despite the cancellation of the sit-at-home order by IPOB.
Streets of Anambra State capital Awka is currently deserted despite the decision of secessionist group IPOB to lift its sit-at-home order.
As part of efforts to ensure the release of its leader Nnamdi Kanu, the Indigenous People of Biafra had initially called for sit-at-home in the State which was meant to disrupt the state governorship election scheduled to hold on Saturday, November 6, 2021.
However, the group would cancel the order on Thursday, November 4 owing to pleas from the public, but fears that things could still get violent have forced citizens to remain indoors. Private and public establishments in the state have remained under lock since Friday morning and the streets might look same on Saturday.
Fears are that Anambra, the commercial base of South-Eastern Nigeria might witness the poorest voters turnout in its history due to the fact that residents are scared of getting in harms way if they decide to show up at polling stations on Saturday. The government of President Muhammadu Buhari has assured residents of their safety and have deployed heavy military and police presence in the State, but the inability of the government to secure lives and properties in parts of the country especially the North which has seen increased banditry, kidnapping, and terrorist activities, citizens hardly take the government for their word.
Featured Image Source: LIB