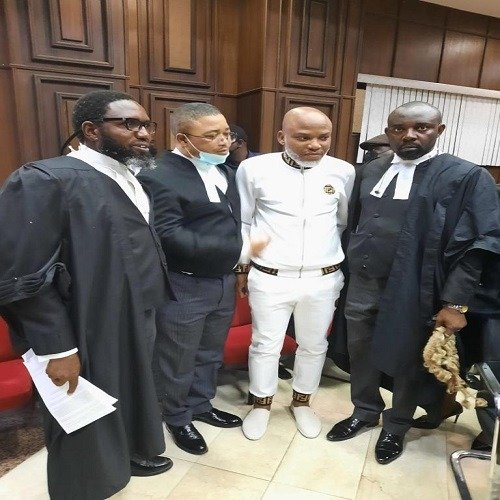 Ejimakor said Kanu is optimistic as his trial continues on Wednesday.
Ahead of Nnamdi Kanu's appearance in court for his ongoing case with the Nigerian government, the legal counsel of the Indigenous People of Biafra (IPOB ) leader Alloy Ejimakor has said the secessionist is looking forward to being vindicated when his trial continues on Wednesday, November 10, 2021.
The IPOB leader has been facing trial since 2016 but was granted bail in 2017. After an invasion of his home in Abia State by the Nigerian military, Kanu fled the country in September 2017 before he was rearrested on July 29, 2021 and extradited to Nigeria.
Nigeria's Federal High Court in Abuja during a sitting on October 21, 2021, adjourned Kanu's case until November 10 after he pled not guilty to charges labeled against him by the government.
Ejimakor who has been at the fore of Kanu's defence in court alongside other lawyers said in a chat with Punch on Monday that the secessionist remains strong and is looking forward to success on Wednesday.
"I had a fruitful visitation today with Mazi Nnamdi Kanu in the company of my colleagues, Barr Ejiofor & Barr Maxwell,'' Ejimakor said.

"We went over his next outing in court on 10th November. He remains the strong man. He said he looks forward to being vindicated. He greets his followers and supporters.''
IPOB is a Nigerian secessionist group that is fighting for self-determination of the Igbo people in a nation called "Biafra.'' The group has also been vocal against "marginalisation'' of the Igbo people in Nigeria.
Source
Punch NG
Featured Image Source: The Sun NG