Davido goes wild with Joy as His Talented Prodigy, Mayorkun Surprises Him on Stage.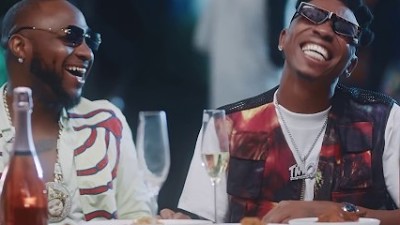 In a show in Abuja recently, Mayorkun came in through the backstage to surprise his boss, Davido.
In a video which has gone viral, Davido who was in a Abuja for a concert instantly went wild with joy when his prodigy, Mayorkun appeared on stage to perform with him.
In Mayorkun's words:
"So, I went to surprise David at his Abuja show yesterday and I can pay anything just to see his face light up like that Ha ha!"
Aside from being a singer and songwriter, Mayorkun is also a pianist. He was the first artist to be signed to Davido's record label, "Davido Music Worldwide" in 2016 and since then, they have done some music collaborations together.
For example, Davido featured Mayorkun in his song "The Best" while Mayorkun featured him in "Betty Butter" in return both in 2020.
Mayorkun shared his experience about getting signed by Davido in 2019.
He said:
"On Twitter. I was bored at the office, a bank, one day; just while I was pressing my phone, I impulsively posted a video I had recorded, where I was playing the keyboard of one of Davido's songs, The Money, on Twitter.
I wasn't expecting anything. It was on a Friday, and I was supposed to resume work in another bank the following Monday. Well, Davido retweeted the video. And he later sent me a direct message asking if I had other things that I did besides playing keyboard. I told him I had some songs. I sent like six songs. He liked one of them.
He said if he came back from ATL (Atlanta, Georgia, USA) he will sign me on. He collected my WhatsApp number. Because I was shaking, I typed a wrong number."
Source – Legit
Featured Image source: YouTube Music