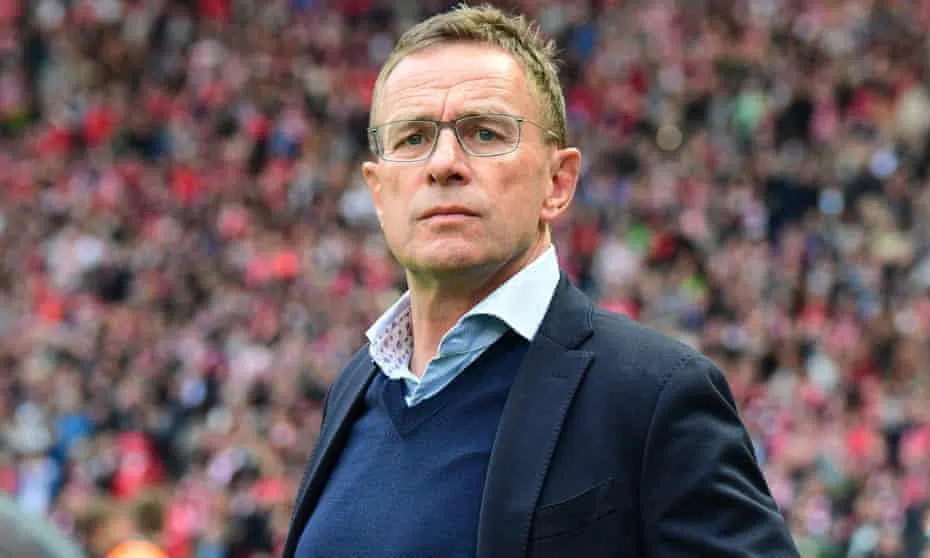 Ralf Rangnick suffers his first defeat as Manchester United manager.
Manchester United's interim manager has revealed that he knew handling the Red Devils would not be an easy task before taking up the role.
On Monday night, the German manager suffered his first defeat at United after Wolverhampton Wanders beat them for the first time at Old Trafford in 42 years.
His appointment initially seemed like what will rejuvenate the team, but their recent performances has not been convincing.
Wolves have been using the back three formations under new coach Bruno Lage this season. The formation caused United problems in the first half andprompted Rangnick to switch to a three-man defense in the second half.  
Though there was a brief spell of dominance in the second half where substitute Bruno Fernandes' effort hit the crossbar, United, however, was unable to break down Wolves' defense. Jao Moutinho struck the deserved winning goal for Wolves in the 82nd minute.
At the post-match conference, United manager Rangnick insisted: "I knew it would be a difficult job and there was a reason why they contacted me and signed me. So I knew from the start that it would not be an easy job".
He further disclosed that: "It was important for me that we do not concede many goals, but again today, it showed that we are still struggling and we have a few steps to take".
 On the balance of his team, Rangnick noted: "How do you need to create chances offensively and how compact do you have to defend your own goal? Finding the best possible players for the formation and hope every player plays in his best position possible".
United currently occupies the seventh position on the EPL table, four points behind Arsenal and 22 points behind their city rival and EPL leader Manchester City.